How Digital Twin technology is increasingly a key part of a Smart Port strategy:  improving businesses processes and understanding our environment.  
As ports adopt digital technology more and more within their operations, another exciting innovation is making its presence felt: step forward the Digital Twin. This technology is enabling us to see what is happening now – and in the future – to our physical assets and infrastructure1. 
A Digital Twin gives us a virtual representation of the physical world we live in. In truth, the technology behind the development of digital twins is not that new; the concept first gaining prominence in the United States twenty years ago. In the 1960s NASA created a digital twin model of Apollo 13 on earth,  allowing scientists and engineers to test possible solutions from ground level. This revolutionary technology provided the foundation for the evolution of modern Digital Twin solutions.   
Today, Digital Twin technology is used in many sectors and for multiple products, for example, aviation and general manufacturing, industrial design, construction, retail, energy/ utilities, and healthcare being just a few examples.   
What Are the Benefits of a Digital Twin?
By combining the virtual and physical worlds within which we work, Digital Twins allow us to undertake detailed analysis of the data and use monitoring systems to deal with problems even before they occur. By using real-time data, simulation, and machine learning, Digital Twins allow businesses and organizations to maximize efficiencies, develop new opportunities, and create detailed simulations.  In effect, Digital Twins are modernizing the entire process with which organizations capture, analyze, and interpret data, ensuring more effective decision-making. 
Predict the ETA of any vessel for free!
Get an accurate prediction of the ETA of any vessel thanks to our ETA Calculator Module. It's easy, in real-time and free. You just have to sign-up to our HUB.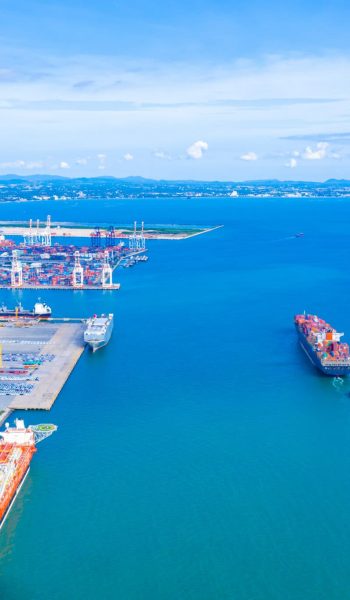 What Is the Difference Between a Model and a Digital Twin?
Digital Twins have several key characteristics which differentiate them from standard models. Crucially, a Digital Twin must be associated with an object that exists3. Not only that, but a Digital Twin must also be an exact replication of a physical object – such as a port, factory, or other building. Furthermore, according to Benchmark magazine, a Digital Twin must have the following attributes: 
It is a model of the object

 

There is an evolving set of data relating to the object, and

 

Users have a means of dynamically updating or adjusting the model in accordance with the data.

 
A major additional benefit therefore from using a Digital Twin compared with a basic model is the use of evolving data as it provides an accurate description of objects that change over time. 
Digital Transformation and the Maritime Sector
Ports play a vital role in the world's economic system, with around 90% of goods transported, loaded, and offloaded at container port terminals internationally. In recent years, ports and shipping companies have embraced the digitalization agenda, seeking to harness Artificial Intelligence (AI) technology and real-time data solutions to improve business competitiveness and achieve greater sustainability, minimizing environmental impacts. 
Using Digital Twin technology is a logical next step for the maritime sector. Processing and analyzing significant volumes of data can provide a real test for port authorities and shipping companies. However, Digital Twins take maritime data that is challenging to understand and turn it into comprehensible data, increasing business efficiency and reducing risk.   
The benefits of using Digital Twin technology are not restricted to logistical operations.  Digital Twins can analyze how rising sea levels due to global warming will affect their operations, protect environmental zones thanks to powerful Artificial Intelligence (AI) tools, and easily share and collaborate with global supply chain actors.   
What Does a Digital Twin for a Port Look Like?
Container ports are an essential element within the logistical supply chain network. Of course, a busy global port infrastructure will contain many different components, such as:  
Warehouses

 

Cranes & equipment for mooring, berthing, unloading & loading

 

Containers

 

Vessels

 

Shipment

 

Lorries & trucks

 

Delivery vans

 

Airport hubs

 

Railway termini etc.

 
For a port, a Digital Twin will therefore be the entire replication of the physical entire supply chain network – virtually.  The design and creation of a Digital Twin will enable the port authorities to simulate the construction and operation process and visualize the various infrastructure elements in real-time.  
A Digital Twin Port in Practice – Livorno, Italy
Livorno is a major regional port on Italy's Northwest coast, close to the historic city of Pisa. The port handles a wide range of different vessels with annual traffic capacity of around 30 million tonnes of cargo and 600,000 TEU's. It is an important hub for Italy's Ro/Ro traffic.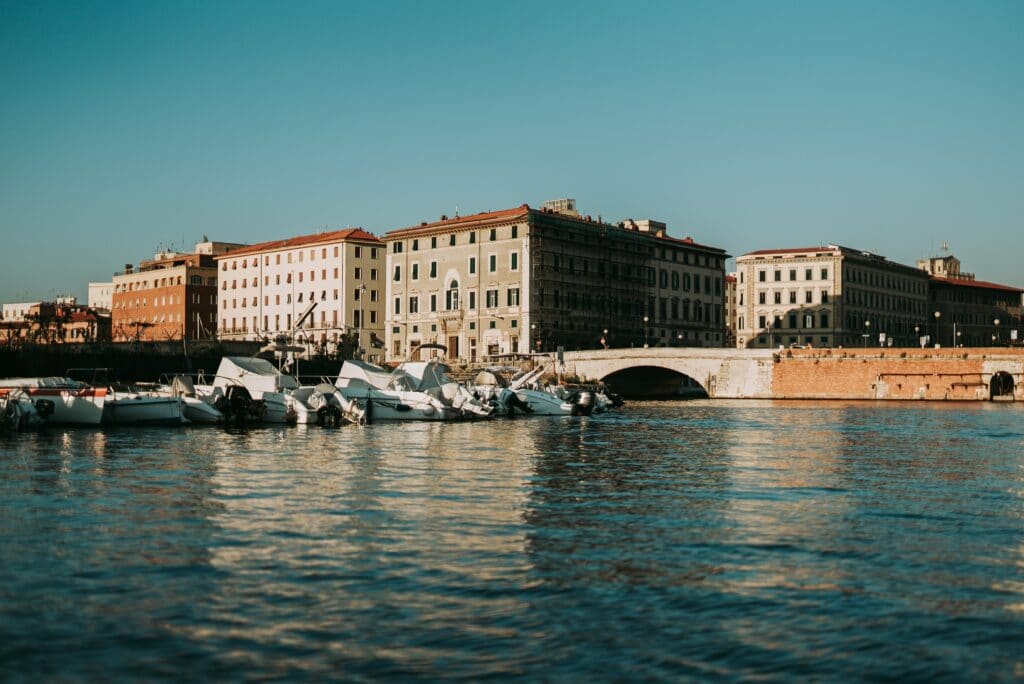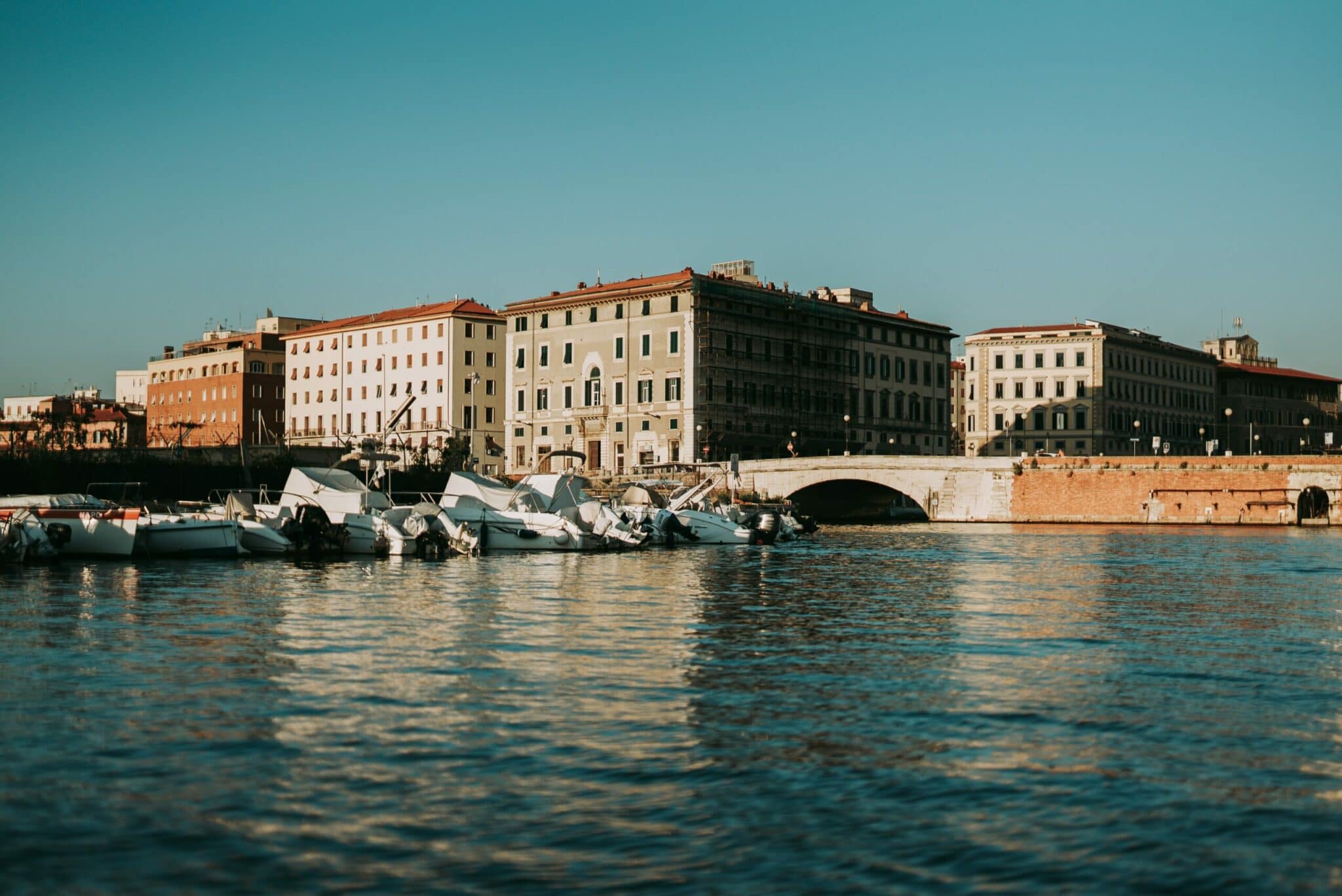 Since 2016 the port has been working to design and implement its technological infrastructure, using 5G communications, AI, and a Digital Twin. 
Each area within the port has been modeled virtually to replicate the physical elements, such as the outdoor port area for general cargo freights storage, freight containers, monitoring cameras etc.  
Storing and locating goods accurately and efficiently is fundamental to logistics operations within a busy container port. Using Wide Dynamic Range (WDR) cameras, every aspect of daily activities can be captured and streamed. For example, freight transported by a forklift from one area to another is tracked, with the new position data registered onto the operation control systems. The cameras operate in all weather conditions and at different times of the day. 
The port of Livorno is taking technology a further step forward, by incorporating Virtual Reality (VR) applications. This enables operators to virtually navigate inside the Digital Twin model and experience a complete overview of the entire digital port area. 
What are the projected benefits?
The collection of a mass of data using the communications infrastructure, available in real-time, combined with Digital Twin modeling is projected to improve efficiencies in storage capacity, reduce the unloading/loading times from general cargo ships – ultimately resulting in cost savings and lower carbon emissions.   
Digital Twins and Smart Ports
The use of Digital Twin systems is one characteristic of a Smart Port.  
A Smart Port is green, digital and more connected to logistics, industrial environments and sustainable development resources. They are automated ports using new technologies while caring more for the marine environment.   
Smart Port technologies include Big Data, AI, Internet of Things (IoT), blockchain technology, and 5G connection.   
Digital Twin technology is helping ports to achieve business efficiencies – and protect our maritime eco-system.
Digital Twins are an important tool for improving processes and business performance in ports and other industries. However, they can also assist the maritime sector to gain long-term situational awareness by understanding the complex ecosystem surrounding us. 
A Digital Twin can therefore be a part of an overall Smart Port strategy.  Sinay can help ports assess their current position in terms of achieving Smart Port status and assist in the development of an action plan to adopt more digital technologies through the Sinay Workshop.   
The objective of the Sinay Workshop is to assess the port's "Smart Port level" and help ports to decide on the appropriate strategy. The workshop deliverables include data mapping and co-design to implement one or several of the Sinay Hub modules. We can also provide a premium solution, tailored to specific requirements. 
Frequently Asked Questions About: DIGITAL TWINS