Digital technologies are driving transformation in all economic sectors. Hence, a new era starts for the maritime industry, especially for freight transportation. The concept of "smart shipping" has emerged with the use of digital tools for fleet management, navigation, port operations… Smart vessels are, of course, part of smart shipping. 
How do smart ships disrupt the sea shipping industry?
The global supply chain as a whole is changing as we move toward smart shipping. This term refers to the near-autonomous operation of both inland and seagoing vessels. It covers the ship's onboard technologies and all the ecosystems around them, meaning ports and waterways. The aim is to make the shipping industry more competitive, cost-efficient, and safer both onboard and ashore, but also greener and more sustainable.  
How Is ETA Computed Using Artificial Intelligence ?
The ETA computations explained are to help ports and the shipping industry understand how ETA is computed and how important a precise ETA is for their business activities. ETA is one of the most influential factors for maritime supply chain efficiency…
How do technologies make ships smarter?
New technologies implemented in smart ships aim at addressing various concerns: 
comply with the maritime sector regulations;

 

optimize fuel consumption and energy efficiency;

 

lower CO2 and carbon emissions;

 

control

Energy efficiency;

 
promote circular economy within the maritime field and sharing of knowledge,

 

improve transparency.

 
Artificial Intelligence (AI), Internet of Things (IoT), data analytics, Machine Learning, Augmented reality, blockchain, and other technologies work together to meet the said expectations. 
Deep knowledge of the vessels

 
Thanks to Big data, all stakeholders have an enormous amount of data collected from multiple sources that give them a better understanding of the vessel's functioning. This information is completed by augmented reality, which works as a live view of the real-world environment. This dynamic view is computer-generated, based on inputs like photos, videos, graphics, and GPS data. The enhanced perception of reality provides a full and immersive user experience for ship navigation. 
Smart sensors also contribute to this knowledge by evaluating and transmitting inside and outside conditions in real-time. Sensors are designed to measure various indicators: speed over ground, state of the sea, rudder direction, GHG emission, wind speed, temperature, sound velocity, fuel flow, shaft torque, shaft RPM, abnormal system or machinery behavior, etc. 
What are the main advantages of smart ships?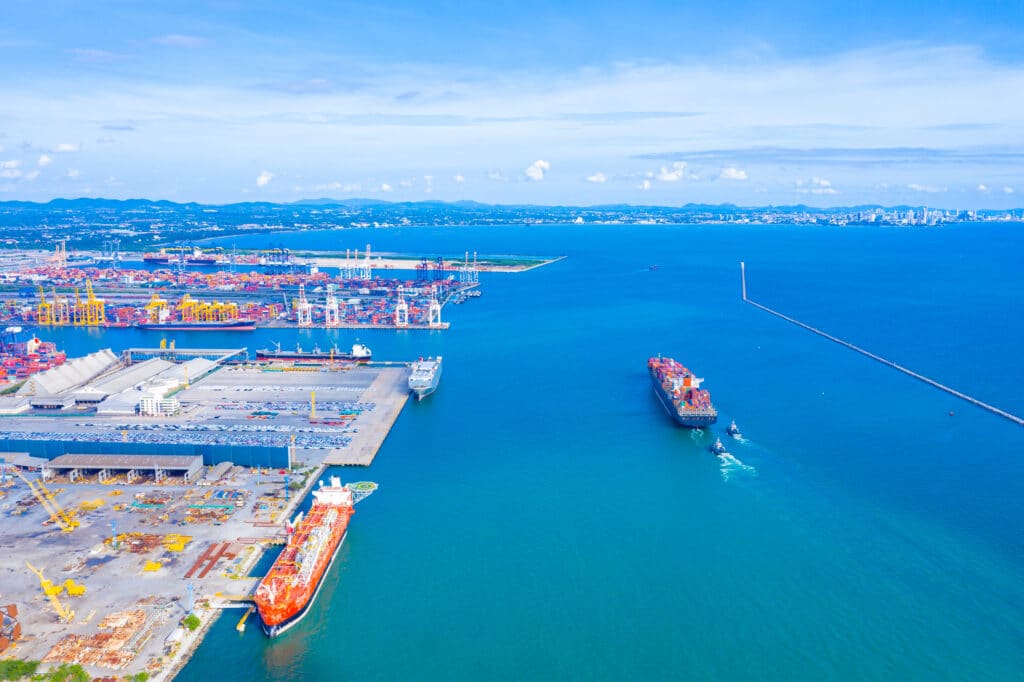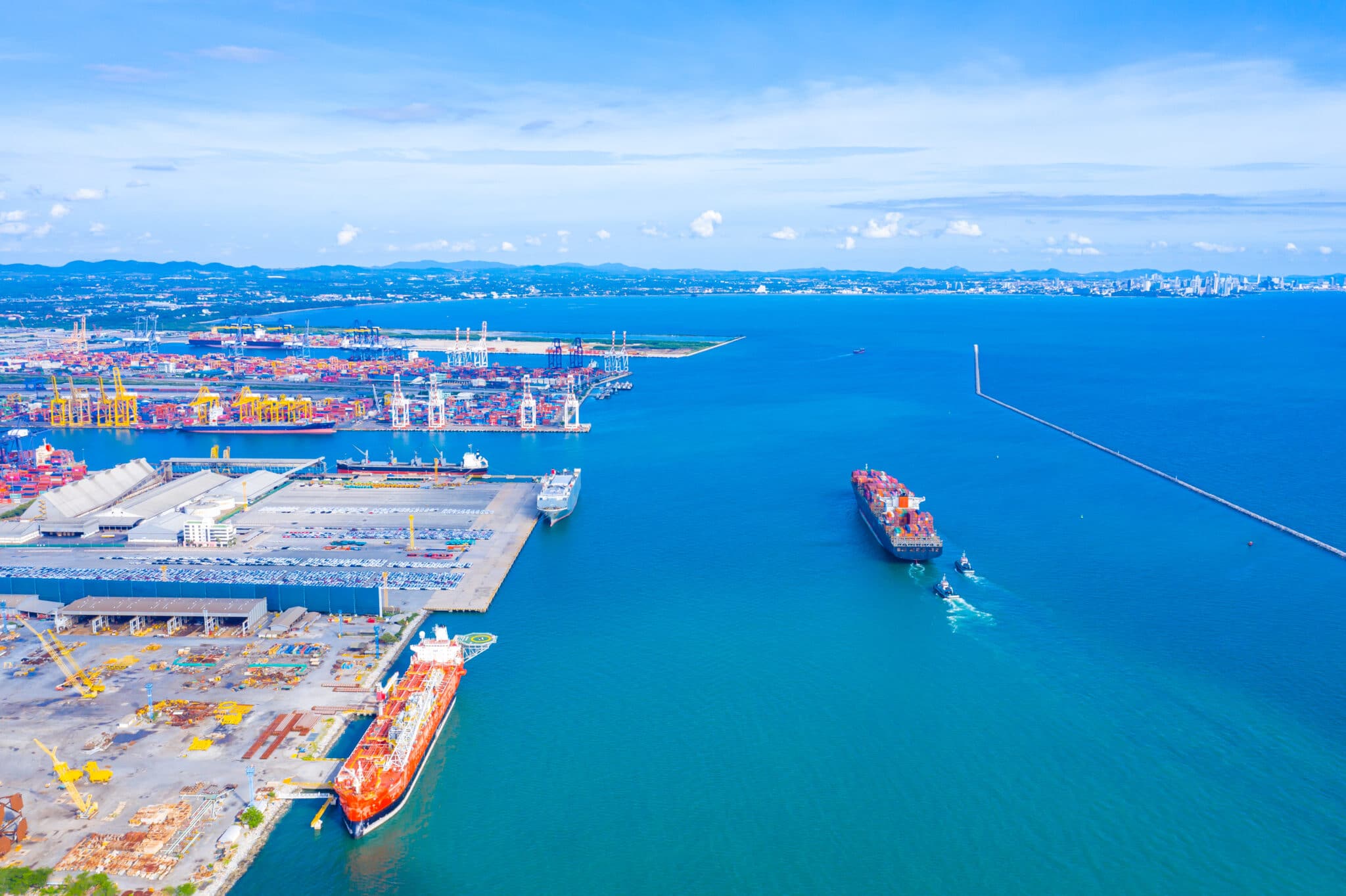 Smooth real-time communication

 
Wireless mobile terminals and high-speed Internet connections smoothen communication and collaboration between the ship's crew and inland stakeholders anytime and anywhere. It is hence easier to manage both off and onshore activities. 
Good planning also helps to improve operational efficiency. Sinay's Estimated Time of Arrival (ETA) module has been developed in this regard. Shipping lines, port crew members, and any other concerned party can calculate a specific vessel's accurate time of arrival at the port and get workers, equipment, trucks, etc. ready. Such optimized organization has a positive impact on the marine environment and CO2 emissions. 
Increased competitiveness

 
Advanced digital systems help all parties work to make the best decisions when choosing the best route, deploying crew members effectively, and ensuring safe sailing while reducing costs. Smart ships boost the maritime sector's competitiveness. 
AI applications lessen human errors and enable optimal safety

 
The use of data collected by sensors combined with satellite data, navigation systems, and better decision-making algorithms are of great help for the crew during navigation and berthing, etc. It lessens the risks of accidents due to human error. It's easier to anticipate any potential issue on the way ahead (weather conditions, huge congestion at the next port of call, etc.) and adjust the routing accordingly. 
Furthermore, using geolocation technology, inland teams can monitor any vessel of the fleet globally and in real-time and provide them with all relevant information without delay, or bring any kind of assistance whenever necessary. 
Thanks to technologies and accurate environmental data (wind, marine current), smart ships can regulate speed and thus use less fuel. For instance, to avoid waiting time, the system can optimize the navigation plan by taking into account various parameters: the opening and closing times of locks and bridges, the available mooring space in harbors and port terminals, etc. 
They can also decrease energy consumption by adopting energy-saving devices and better managing onboard equipment and facilities. All of these contribute to reducing greenhouse gases emissions. On top of sailing more sustainably, smart vessels allow cost-cutting. 
How Is ETA Computed Using Artificial Intelligence ?
The ETA computations explained are to help ports and the shipping industry understand how ETA is computed and how important a precise ETA is for their business activities. ETA is one of the most influential factors for maritime supply chain efficiency…
Why is the development of smart ships essential?
Shipping companies are facing multiple issues. On one hand, due to tough competition in the global logistics market, cost-efficiency becomes a major challenge. On another hand, the maritime industry is one of the most polluting sectors and there is much to do to reach the objectives in terms of carbon impact reduction. Since 2020, the pandemic has created new constraints: severe port congestion, lack of empty containers, and the upsurge in energy costs. 
To tackle all those issues and meet high demand, and then operate the ships smartly, safely, and economically, the need for automation in navigation and control technology are quickly rising. Furthermore, the multiplication of artificial intelligence applications and advanced technologies is promoting the idea of building eco-friendly autonomous ships.  
In the European Union, in China, Japan, Korea, and other industrialized countries, private-public collaboration enables the development of various projects. Smart Ships bring revolution to the global maritime industry, not only in vessels design, but also in how they are operated, how people communicate, and their respective roles. All stakeholders are impacted and shall be involved: shipbuilders, ships' crew, ship owners, shipping lines, port authorities, importers (or beneficial cargo owner – BCO), shippers, all goods and service suppliers, and sub-contractors, as well as regulators. 
Conclusion about smart vessel
As global trade grows, the demand for sea carriage of goods will increase. Without a doubt, smart ships have a great role to play to ensure safe, efficient, and trustworthy services that bring value to all stakeholders. Outstanding progress has been made on the technical side and people's awareness-raising. 
However, such changes on vessels but also the use of data, and the overall functioning of the maritime industry, come with legal issues. This is the reason why one of the IMO's Strategic Plan of 2018-2023 key aspects is "Integrate new technologies in the regulatory framework". Laws and regulations have to be quickly amended to cover any legal problem. 
Last, all countries are not at the same stage in smart shipping integration to the whole supply chain. When calling ports that do not work smartly yet, there is a risk of non-compatibility that may delay port operations.   
Frequently Asked Questions About Smart Vessel