Every year, 226 million containers are shipped across the globe. For shippers, consignees, and logistics companies, knowing the live position of their shipments is of paramount importance to ensure a seamless and efficient logistical experience. Here are some of the highest-ranked container tracking solutions available in the market, offering advanced functionalities and comprehensive features.
What are the most popular container tracking software?
While the largest shipping lines, such as Maersk, CMA-CGM, MSC, Evergreen Line, and Hapag-Lloyd, provide their customers with a dedicated container tracking tool on their websites, achieving real-time monitoring for each individual container across all maritime carriers is impractical.
This is where multimodal platforms come into play, enabling significant time savings and operational efficiency enhancements throughout the entire supply chain. They rely on cutting-edge technologies, such as IoT, artificial intelligence, machine learning, and big data. Hardware devices like GPS units, RFID tags, sensors, and communication modules are installed on or inside the shipping containers. These devices continuously gather data about the container's parameters, including its geographic location, physical movements, temperature, humidity, shock, and other relevant metrics.
Data collection: The installed hardware collects data, such as temperature variations. The collected data is then transmitted to a centralized platform using cellular networks, satellite communication, or other wireless technologies, where it is processed and made accessible to authorized users. Depending on the technology used, this data transmission can be real-time or near-real-time.
Various information, such as the unit's 11-digit identification number or the Bill of Lading or booking number, can be used to obtain an accurate status of the container. IoT trackers placed within each container capture and transmit up-to-date data about the shipment, including exact geolocation, temperature, activity, and movement.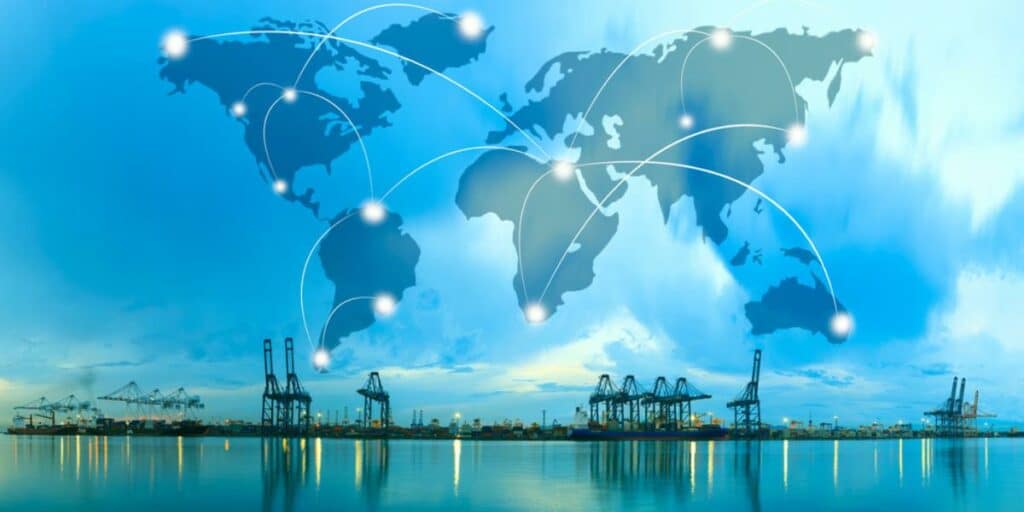 There isn't a universally superior shipment tracking software. Every company must carefully consider its unique requirements when selecting an appropriate solution.
GoComet, a leading company in logistics solutions, provides automated real-time updates on freight movements, thanks to a powerful and comprehensive tool. End users can seamlessly monitor all their shipments across various carriers through GoComet's unified dashboard, guaranteeing real-time visibility.
Beyond monitoring shipping containers, the software includes advanced analytic functionalities, enabling data-driven decisions and cost savings. These combined features enhance customer experience by fostering high levels of transparency and accuracy.
Project44 is renowned for its predictive tracking system that offers multimodal visibility. Its dedicated platform provides insights about the order's location, the mode of transportation and other metrics. User scans get live updates in case of any discrepancies, so as to strategically plan their supply chain operations.
How to Track a Ship In Real-Time ?
Let us look at how a ships' real-time tracker works, its details and features, its benefits for all players in the shipping sector but also its weaknesses…
Within the Project44 family, Ocean Insights offers a consolidated view of any container, along with historical data from various ocean carrier lines and seaports. Intelligent filters facilitate quick identification of the shipments that need immediate/special attention. Auto-alerts and notifications—ranging from delays and discharges to rollovers and extended wait times—ensure customers that they are constantly in the loop.
4. Ocean Network Express (ONE)
The Singapore-based global container shipping company ONE features a real-time track & trace functionality as part of its comprehensive shipment management products and services. In addition, it allows mail tracking, based on container number or Bill of Lading number.
The customer will receive a message containing details regarding the cargo's current status (exact location, event), the ship, and the route (origin, port of loading, port of discharge, final destination). It is a very simple, yet efficient solution for cargo container tracking.
Safecube Easytrack is a turnkey solution for multimodal tracking shipments from door to door. All shipments added to the watch list are displayed on a dynamic map with the most important information highlighted, including ETA prediction. Real-time alerts and notifications enable smooth cargo management and accurate supply chain planning on the go.
In addition, a powerful analytic dashboard gathers information from different sources to provide insights into the supply chain performance, benchmark with others and identify areas for improvement.
CargoSmart is a cloud-based platform that provides comprehensive container tracking capabilities with detailed information. Harnessing advanced analytics and machine learning technologies, this software helps businesses achieve greater visibility and control over their supply chain by delivering valuable insights into their shipping operations.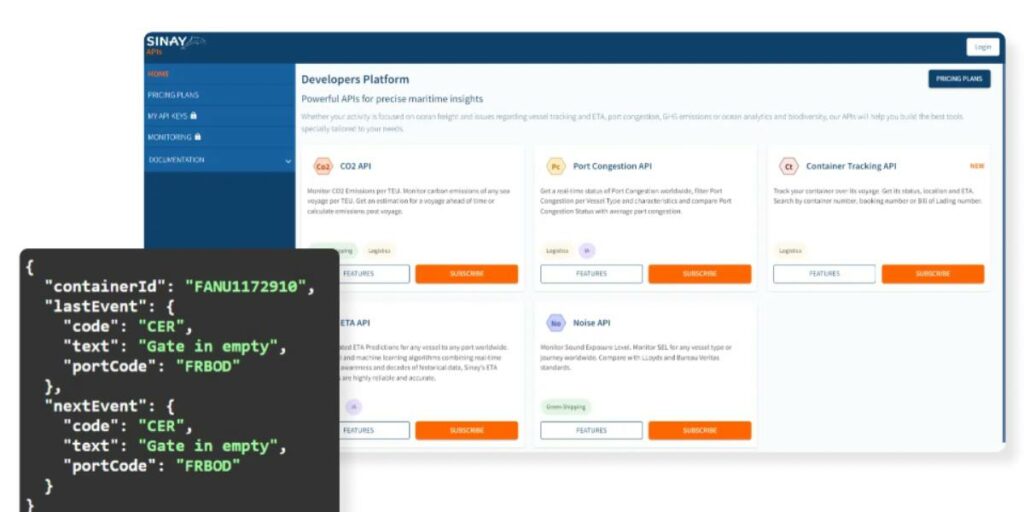 MarineTraffic, a ship and container tracking platform. This innovative solution goes beyond conventional geolocation of goods, providing carrier-independent, precise, and reliable data regarding estimated arrival times at every waypoint until the shipment reaches its final delivery destination. This is a powerful tool to optimize supply chain management.
8. Netsuite Container Tracking by Oracle
This shipping container tracking system comes as part of the Netsuite Warehouse Management System developed and integrates with the NetSuite ERP system. This freight management software helps businesses trace containers all the way from the supplier to the final consignee. It also allows easy monitoring of inbound logistics specifics, including expected delivery dates and other relevant metrics.
Why choose a customized container tracking solution?
For businesses of all sizes, opting for a customizable, user-friendly, and highly scalable container tracking solution is advisable. The aim is to eliminate the need for extensive training when starting to use it, enable easy adjustments to shipment volume and requirements, and accommodate potential activity growth. Instead of selecting a cumbersome and expensive solution, developing a personalized tool can be an appealing choice.
Sinay offers developers a container tracking API that presents the container's latest movement, current location (latitude & longitude), and upcoming events, including the estimated time of arrival at the next transshipment port and final destination. Implementing this real-time cargo container tracking solution takes only half a day and seamlessly integrates with the company's ERP.
Developers can make use of cloud container services like IBM Cloud Kubernetes Service or Amazon Elastic Container Service (ECS) to streamline the implementation, management, and scalability of shipment tracking software. Leveraging cloud computing infrastructure simplifies the collection, transmission, and storage of data from strategically placed IoT sensors and devices on shipping containers.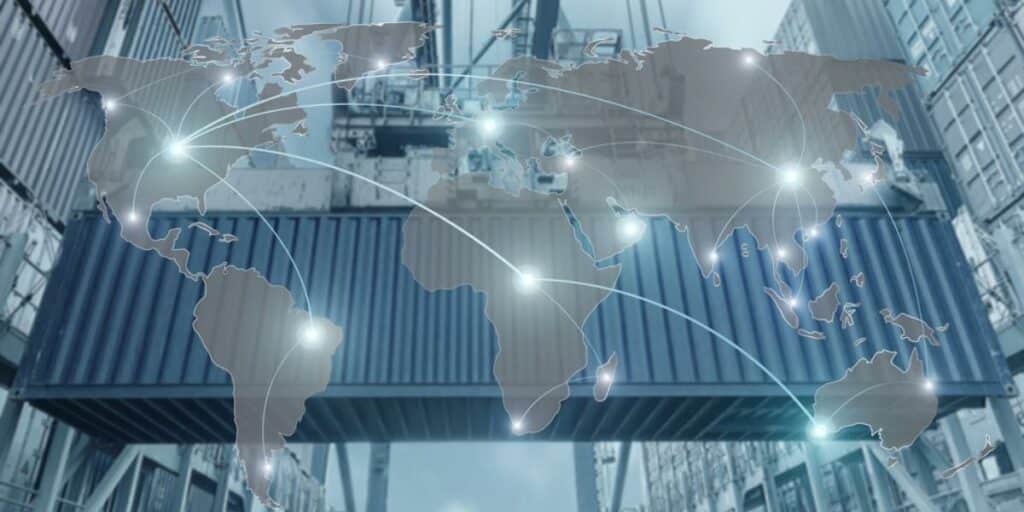 What are the key features for a container tracking system?
The best container tracking software offers extensive coverage and ensures timely updates, providing users with reliable shipment status information anywhere in the world. A unified and user-friendly interface facilitates streamlined monitoring of all containers across different carriers, ensuring complete visibility.
Advanced tools provide the option to configure email alerts. Automated real-time updates are sent via email, SMS, or other communication channels to cargo owners, logistics companies, or relevant parties for crucial journey milestones or significant changes in cargo movement. Pre-defined conditions, such as temperature deviations or unexpected route changes, trigger system notifications, reducing the need to manually track multiple shipping websites and enhancing operational efficiency. This functionality also helps prevent additional charges like demurrage, detention fees, and penalties due to delays.
Modern container tracking systems incorporate innovative data analysis capabilities. They allow the comparison of actual shipment movements with planned milestones, simplifying carrier performance evaluations. Users, including shippers and consignees, can access predictive analytics for data-driven, cost-effective decision-making.
Effective container tracking solutions should be compatible with a company's existing supply chain management or TMS software, enterprise resource planning (ERP) systems, and logistics platforms. This integration facilitates data exchange and ensures a seamless flow of information across various organizational functions.
Due to the sensitive nature of shipment data, container tracking solutions prioritize data security. They employ encryption, authentication mechanisms, and access controls to protect information from unauthorized access.
Last but not least, it is advisable to opt for a trial version that includes all the required features before a full-scale deployment. Additionally, the provider should offer a proactive customer support team to address any concerns or issues that may arise.
In the ever-evolving realm of international shipping, characterized by extensive distances and numerous stakeholders, cargo tracking software plays a pivotal role.
Ensuring the availability of accurate and current information helps in reducing the risks associated with disruptions, delays, and costly penalties, thereby improving the predictability and smooth flow of goods within the supply chain.
Furthermore, the integration of automated tracking processes enhances trust among partners and customers.
Overall, container management software helps businesses navigate uncertainties with resilience, optimize resource allocation, and ensure timely deliveries. Given the increasing importance of agility, responsiveness, cost efficiency, and customer satisfaction in today's dynamic global marketplace, investing in robust container tracking solutions has become imperative for those aiming to thrive.
Frequently Asked Questions About Best Vessel Tracking Solutions