Safecube - Advanced Container Tracking
Day-to-day tracking tool for intercontinental sea-freight flows.
Your turnkey solution to track and manage shipments. End-to-end multimodal flow tracking, map visualization and geolocation of goods on sea-freight and multimodal trade lanes.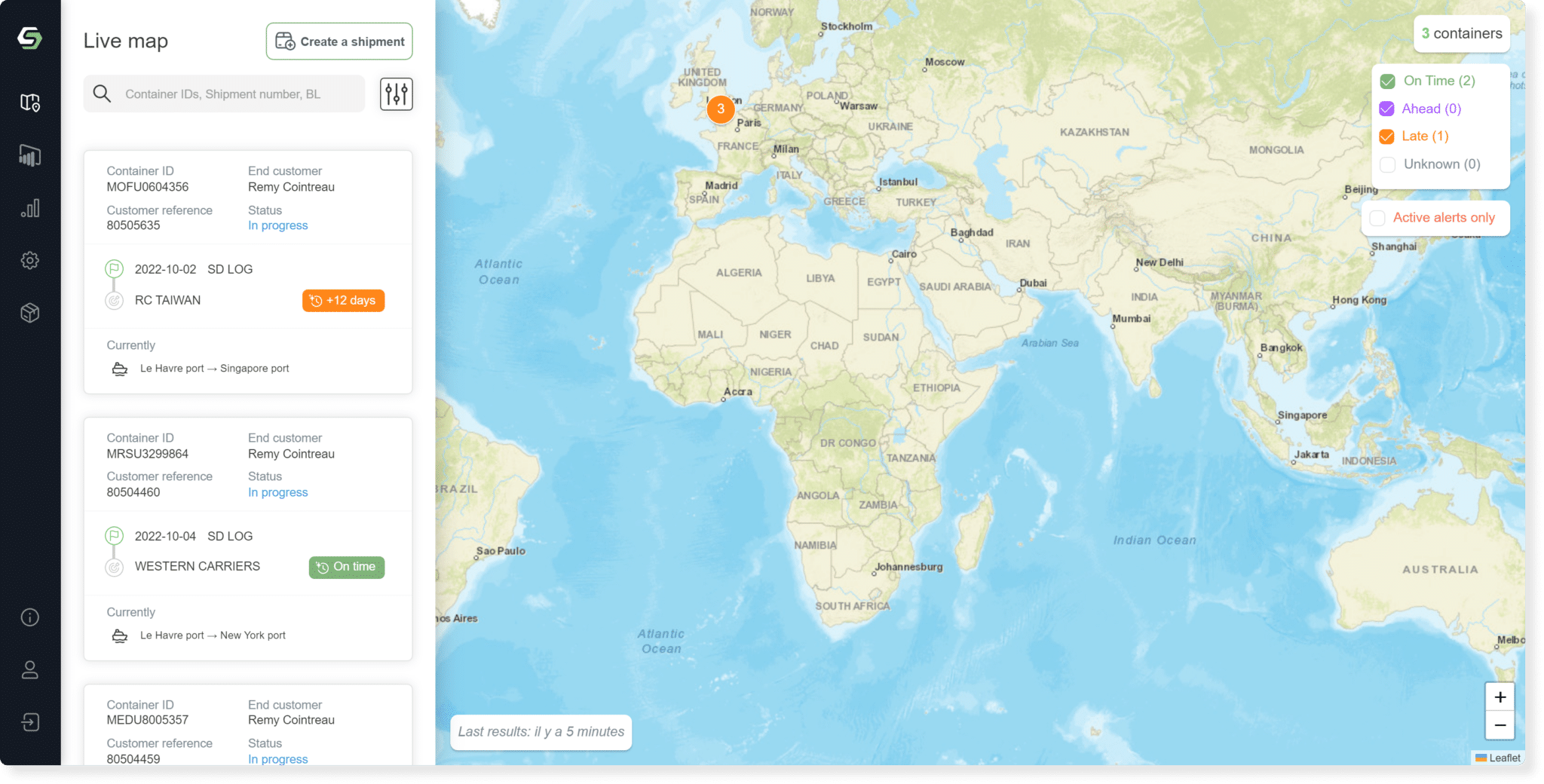 Thanks to Safecube's intuitive platform, follow all your shipments from door to door. Add shipments to your watch list and configure alerts to be informed of all status changes and ETA and make sure expeditions are going smoothly.
Goods geolocation for routine performance monitoring 

ETA prediction

Port-to-port tracking information

Real-time alerts notifications

Analytics Dashboard (lead-time, delays, carrier and lane comparison)

Integrated with client information system

Aggregating data from different sources (shipping line and ports, AIS vessel tracking, customer data,…)
All shipments at a glance
View all shipments at a glance on a dynamic map using filters to highlight only the relevant information.
Convenient and dynamic power BI tool and dedicated analytics table designed to bring out trends and highlight relevant insights.
Benchmark your performances
Compare your supply chain metrics with broader industry data to identify trends and areas for improvement.
Get a dynamic estimated time of arrival (ETA) prediction for reliable Supply Chain planning
Effective exception management
Get effective exception management with a decision support tool which helps to get a reliable ETA and synchronize operation for shorter lead times.
Powerful machine learning, industry's largest data set, to get actionable insights in one single digital platform
IoT or Full Digital Tracking
Full Digital Tracking allows you to perfectly track all shipment journeys from door to door. Get all relevant data, from shipment geolocation, ETA, status, track arrivals and add trade lane insights for the most accurate insights.
Using IoT trackers installed within the containers provides the most accurate data from your shipment, including temperature, exact geolocation, container activity and movement. Configure alerts to be informed of any container activity.
Integrate Container tracking information (location, delivery status and eta) in your own system by API. Provide easy cargo tracking with our all-in one API.
Get a real-time status of Port Congestion worldwide, filter Port Congestion per Vessel Type and characteristics and compare Port Congestion Status with average port congestion.
Easily integrate Sinay's vessel ETA Calculator into your system by API. Provide accurate predictions everytime thanks to our AI models.
Monitor CO2 Emissions per TEU. Monitor carbon emissions of any sea voyage per TEU. Get an estimation for a voyage ahead of time or calculate emissions post voyage.
Monitor Sound Exposure Level. Monitor SEL for any vessel type or journey worldwide. Compare with LLoyds and Bureau Veritas standards.
Find the port UNLOCODE or the vessel identifiers corresponding to the name you already know. Use this API to easily integrate our other APIs and improve your user experience.
Get All Vessel Details and Position (AIS). Tap into compete AIS data, from live vessel position, vessel details, vessel speed, destination, and many other datasets.
Retrieve historical Ocean Weather Data for any zone and from any period.
Sustainable Development Goals
By improving the efficiency of supply chains, enabling more effective management of greenhouse gas emissions, and improving the environmental performance of the maritime industry, API container tracking allows the use of data to meet particular sustainable development objectives.