In 2021, port congestion reached an unprecedented level, from China and other Asian countries to North America and Europe. As the new year starts, congestion seems to get worse, impacting reliability, available capacity and costs. Technology can help fix port congestion issues in order to improve shipping schedule reliability and help global supply chains return to a more normal state.
How digital technologies help to fix port congestion
To accommodate growing global trade and vessel fleets, ports need to make sure their infrastructure is ready to receive incoming traffic while ensuring operations safety and transparency. In the digital age, the maritime industry has to rely on technologies to correctly plan the activity, better manage resources, and improve communication to avoid port congestion and keep up with the supply chain. 
How to Track a Ship In Real-Time ?
Let us look at how a ships' real-time tracker works, its details and features, its benefits for all players in the shipping sector but also its weaknesses…
Digitize ports increase efficiency
Here are some positive effects of digital solutions which were deployed in ports to increase efficiency and overcome the congestion crisis:
Improved organization: with accurate information on all ships' ETA, thanks to real-time ETA prediction system, the port can get its crewmen and equipment prepared. Dedicated tools help optimize working times and shifts in order to have the port services available 24/7. Whenever a vessel arrives, berthing and cargo discharge will be as efficient as possible.
Smooth communication: working with data collected from various sources and translated into advanced analytics and dashboards is ideal to streamline communication between all supply chain stakeholders.
Quick handling: automated cranes and vehicles allow to move containers in a shorter time frame. Automation eliminates time-consuming actions such as moving multiple containers to access a specific one assigned to one truck. Hence the on-site workers and machines are able to handle a higher number of freight. This will prevent long vessel queues at the dock.
Lower risk of accidents: sensors placed in all port areas and surroundings will allow controlling all potential dangers (heavy machinery, toxic gases…) and conditions (weather, wind, etc.). Combination of Artificial Intelligence and the Internet of Objects helps predict and prevent an accident. As the issue is being taken care of without delay, operations do not have to be stopped for days or worse.
Lower risk of equipment unavailability for maintenance or repair. Instead of waiting for a machine failure to occur (corrective approach), or periodically replacing components whether there is a risk of a breakdown or not (preventive approach), maintenance is based on identified risk or condition (predictive approach). This will be a less costly yet very efficient strategy.
Reduced impact of unforeseen events: while at sea or in transit countries, vessels might face natural disasters or local concerns (e.g. unstable political situation). Risk Management Modules give accurate prediction about dangerous areas and captains can be warned in due time.
On a wider scale, ports officials need to have clear and reliable metrics to put an effective port management strategy in place. Big Data-based solutions are required to make rigorous analyses, identify current challenges and adopt all necessary measures to solve the shipping industry's current pain points.
Redistribute cargo to alternative ports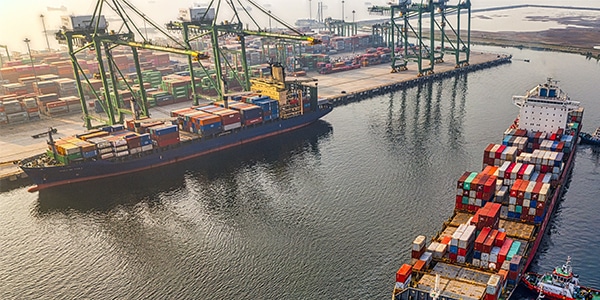 Some countries such as the United States can have multiple ports. The major ones like Los Angeles and Long Beach in California on the US West Coast and New York and New Jersey on the east coast are facing extreme congestion issues since they are beyond maximum capacity. Therefore, why not consider moving part of the traffic to less busy ports. Even with longer lead time, rerouting might be an alternative during the height of port congestion.
By using tools such as Sinay's ETA Module based on Artificial Intelligence, shipping companies can evaluate maritime traffic conditions in different ports and plan their logistics accrodingly. However, this solution comes with two challenges: most of remote ports can only accommodate smaller ships and there has to be enough truckers to pick up the containers at port.
Rely on other hinterland means of transportation
Huge trucks flow might also cause congestion inside the terminal and on roads leading to port. Ttransportation of containers to importers can also be arranged via rail or inland waterways (e.g.: barges). Thanks to tracking solutions for containers and a fluid communication system, the supply chain will be able to run smoothly when coordinating between ports and other means logistics operators.
In 2021, restrictions and quarantines linked to Covid-19 cases or potential exposure have led to very low port traffic and shipping activities in ports. With the vaccine and other protection measures, logistics experts suggest minimizing any disruptions to the supply chain so as to preserve high operational efficiency.
Ports managers in some countries also have to reconsider how to organize empty cargo containers that truckers are not allowed to bring back to terminals to avoid them sitting on quays for weeks or for months. This restriction reduces the number of truckers that can take new loads. Putting these empty containers in inland depots until they are needed for export could be a way to increase trucks and chassis fleet and quicken cargo release. Digital tools allow real-time tracking of these containers wherever they are.
How to Track a Ship In Real-Time ?
Let us look at how a ships' real-time tracker works, its details and features, its benefits for all players in the shipping sector but also its weaknesses…
Impact of port congestion crisis on global economy
If port congestion is such a hot topic, it's because it affects all industries (automotive, consumer goods, etc). Due to long delays in the delivery of raw materials and manufactured goods on a global scale, most countries suffered from shortages. Stores around the world didn't get essential goods, factories couldn't produce, and businesses were slowing down. 
An increase in costs was also one of port congestion's disastrous consequences in the shipping industry, particularly for exporters, importers, forwarders, and truckers.
Freight carriers' rates have dramatically risen, which is passed on to final prices.
Trucks spend hours queuing to pick up cargo, they can only do a trip per day.
Importers have to airfreight some goods to respond to the market demand.
Seasonal goods are not sold in time, meaning shortfalls.
Customers have to pay demurrage, a per diem penalty applied after a "free time" period if the container remains at the terminal, even though they are willing to get their goods ready for it.
Conclusion
Even though the port congestion global crisis will not be easy to solve, adopting the best available technology and having all parties in the supply chain work together can help to overcome it. On another side, customers have to review their overall sourcing and supply chain strategy in order to reduce their dependency on ports and ocean freight carriers. 
Frequently Asked Questions About: PORT CONGESTION
Port congestion can be explained in several ways: port infrastructure cannot deal with capacity, pandemic led to increased consumer spending, unforeseen events, and more.
In a general explanation, port congestion is due to a lack of digitalization.  
Port congestion happens when there are too many cargo ships that need to dock at berth to unload/load than a port can handle.