"A port can only be as efficient as the people who work in it" -UNCTAD Secretary-General Mukhisa Kituyi.
How to Track a Ship In Real-Time ?
Let us look at how a ships' real-time tracker works, its details and features, its benefits for all players in the shipping sector but also its weaknesses…
2020 was a roller coaster year for some of the biggest world economies with the Covid-19 pandemic spreading in a sequenced manner across regions almost halting the sea trade; making it difficult for the maritime sector to keep up with demand and supply. The global maritime transportation is the most crucial networks for the highly globalized world economy and any disruption in its functioning will result in irreparable consequences because of the simple reason that 90% of the world trade is carried by sea. It's the most feasible, cheap and fastest means of transport that delivers the world's most essential and important products – food, energy, raw materials, manufactured goods and components and medical supplies. So when Covid-19 struck, the countries not only restricted movement of people but also of goods. This means the world ports or container terminals went into lockdown halting the act of ferrying cargo in containers. In simple words, the Covid-19 pandemic triggered a butterfly effect which impacted the world economy. Let's take a deep dive into the layers of this butterfly effect. It is important to take note that among global container ports, 9 of the top 10 are located in Asia and interestingly the top 7 are in China itself. 
Port Lockdown: In March 2020, as the Covid-19 virus became rampant first in China, it halted all the economic activities and imposed strict lockdown. As the virus spread in other countries, similar steps were followed because only a strict imposition of complete lockdown could contain the virus. Port lockdown means, no human activity or movement to be allowed at the ports. Even though today, most of the top ports have partially to fully automated operations, labour and manpower are still required to oversee the machines. Absence of manpower halted rest of the operations of loading and unloading cargo from containers, stacking and moving back the containers to its point of origin. Trade remained suspended from April to June due to strict restrictions at ports. So what happened was that number of port labourers were reduced which led to slow cargo handling. Because most of the factories shut their shop temporarily leading to a large number of containers stacked at the ports. Since the movement of cargo was limited the shipping lines curtailed the number of ships for ferrying the containers only to reduce the cost. The shipping lines would only have incurred heavy losses had they continued to send vessels while having no cargo. So reducing the number of vessels was their only option to control Ocean Freight.                                                                        
Container Shortage: China was the first country to get affected by Coronavirus and it was also the first country to have contained the deadly virus with severe restrictions at an early stage. Therefore, when the restrictions were lifted from July, Chinese exporters gained from an early reopening of its economy. The factories started their production only to increase their exporting activities. China only gained by re-starting their economy earlier than other countries. They heavily played on demand for masks and Chinese-made medical supplies. These Chinese exporters were able to grab quite an amount of market share from foreign competitors that still waited for the restrictions to be eased. From September 2020, large volumes of cargoes were sent to North America for Christmas. While it's a very busy affair for China during this period every year because they tend to the Christmas demand of North America before closing for their long holiday to celebrate the National Day of People's Republic of China in October. This period becomes crucial because it increases the volume of export from China as well. However this year it was different because demand crept up and the shipping lines reduced their number of vessels at sea which meant there was a shortage of containers for exporting the cargo. In fact, the shipping lines asked the companies to limit exports to China. The shipping lines controlled the number of containers exported to China. But as China rebounded its sea trade fairly early, they quickly booked a large number of empty containers to ship to the U.S. for Christmas time. The ports started to get congested as there was less number of people at the port facilitating the unloading and loading of cargo. So the shipping time from China to the U.S., the unloading time and absence of labour at the ports mainly added to the congestion single-handedly. Today to ease the container crisis, shipping lines are reducing free time and detention period. Some shipping lines have reduced their free time in Japan from 14 days to 7 days till normalcy is restored. This entire situation led to a hike in surcharges paid by the importers for their goods. From the consumer perspective, in the coming months, the prices of products will shoot up if the port congestion is not cleared. In short, the ports are full of unclaimed cargo which is a result of delays in preceding ports. Even if the port authorities have adhered to the Covid-19 protocols of inspection and sanitisation of the containers and cargo at the ports, the Consignees have yet not cleared the containers. This means the containers have occupied the ground slots preventing them to return on time to carry other goods. 
Even though the shipping lines have already established a system to quickly collect containers, unload cargo and return them, the ports are still congested because of lack of chassis and drivers to collect containers from ports. All these reasons sum up to explain why a huge number of containers are stopped at ports. It typically takes 1-2 days to return empty containers and chassis. However, in the current scenario, the containers may not return for over a week. Topping these is the sea-shipment cost which has only increased. Normally it costs no more than $2000 for a 40ft container to ship to Los Angeles port which is referred to as 'Entrance of Asia'. But the shipping lines have increased the price to nearly $4000 silently engaging in a price war. These problems are repeatedly happening to allow the situation to worsen. In 2016, Hanjin Shipping was officially declared bankrupt which sent shockwaves in the container shipping sector in over 50 years of its existence. Hanjin's 96 box ships were left stranded at sea and outside ports at the time it filed for receivership with approximately $14 bn worth of cargo onboard. It enjoyed a 2.9% share of the global container shipping market.
The delays in vessels, container and chassis shortage, export rebound and demand-consumption outbreak have heavily contributed to the issue of port congestion. According to the Danish consultancy Sea-Intelligence which provides a carrier centric view, the global schedule reliability has plunged to 65% in 2020 Q3. It's the lowest global quarterly schedule reliability recorded by the consultancy and is also lower by -14.5 percentage points YoY. 
How to Track a Ship In Real-Time ?
Let us look at how a ships' real-time tracker works, its details and features, its benefits for all players in the shipping sector but also its weaknesses…
The biggest impact of port congestion due to container shortage could be seen on the Ocean Freight and delay of vessels. There is a dramatic rise in ocean freight in Asia and Southeast Asia. Since November 2020, the ocean freight from Thailand to Japan started making an ascent which otherwise hadn't shown much movement in the past. In December 2020, it was almost triple compared to its past charges. Similarly in the pre-pandemic time, ocean freight from Shanghai to Singapore was $200 which has now touched $1000. From Tianjin to Thailand, it cost $400 for the same size container but now it has increased to a whopping $2000.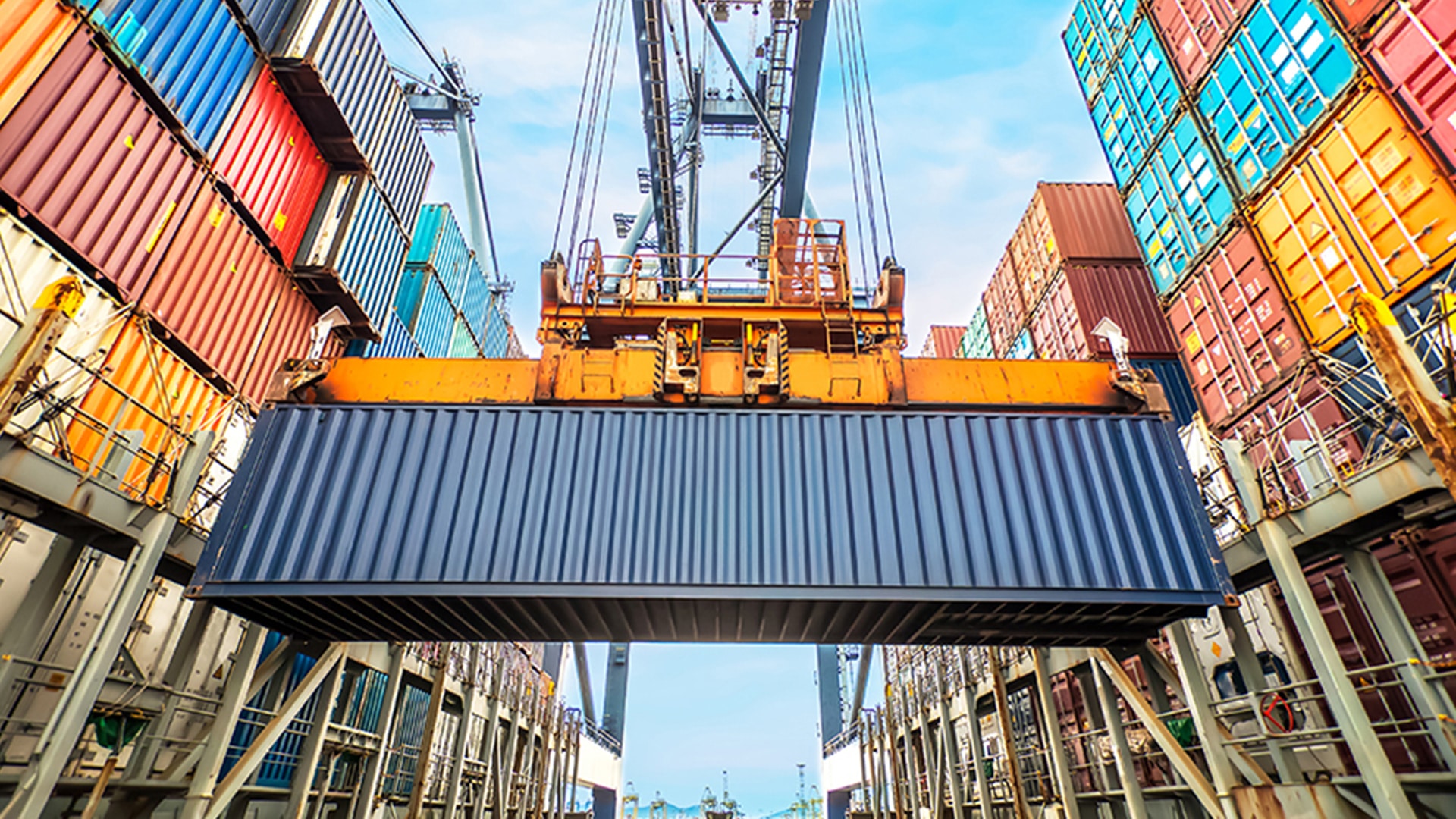 Where are the Containers?
There is an acute shortage of containers in Asia and Southeast Asia. Although shipping lines have started operating empty collection vessels, the supply of containers is just not enough to meet the ever-rising demand. Most of the containers have been booked for long-haul shipment from China to North America and Europe. The scarcity of containers was mainly induced because of high demand for essential items due to Covid-19 and manpower shortage due to lockdown. The essential items included goods that could allow people to work from home and exercise goods along with Christmas marketing goods for North America. Interestingly all these goods are manufactured in China! As Europe was gearing for its 3rd wave of Covid-19, there were extra imports for daily necessities and consumables from China to stock up enough in September 2020. This led to an increase in ocean freight from Shanghai to Rotterdam in the Netherlands from September to October 2020. All because of high demand and container shortage. Similarly, the UK and France entered the second round of national lockdown in November and December which led to the limited movement of labour at their ports reducing the cargo handling speed. Though the UK had expected port congestion it worsened after the lockdown. The shipping lines tried to ease this port congestion and stopped booking for the UK and tried to dodge the UK ports. Adding to this is the behaviour of the shipping lines trying to secure their profit triggering container chaos in Asian countries. The shipping lines prioritise long haul shipment from China to North America and Europe (long-distance) making more profit there compared to shipments within Asia (short-distance) leaving Asia and Eastern Asia with no empty containers except only for China.
It would be wrong to judge the shipping lines for prioritising empty collection containers for the long-haul as it is in line with the market principle and securing their profit in the process. However, they are also affecting the delay of vessels. Cargo handling speed was affected in the port of Los Angeles – the USA, and the port of Columbia in Sri Lanka due to Covid-19. The Asian hub for sea trade – the ports in Singapore which are capable of handling high volumes of containers struggled with serious congestion. But this is an impact of market change. Container ships are queued up at the harbour for more than 4 days unable to unload the cargo. Lack of space for containers on direct long-haul shipment vessels, the shipping lines use transship vessels as an alternative which pit stop at Singapore. This transshipment cargo handling is the cause of congestion at the ports in Singapore. Congestion in one port delays other vessel services including its sea routes. If you are a trader from the manufacturing and logistics industry, you will know that the Asian ports of Singapore, Shanghai, Busan and Vietnam are heavily congested. Very few vessels are operating according to schedule currently.
Experts believe that the container shortage situation will ease out with the Chinese New Year holiday period. The container availability index has shown an uptick since January 2021. Shanghai port which is known for a deficit of containers has shown a positive trend including other major ports in China. In major hubs across Asia including Singapore and Port Klang, the container Availability Index has returned to normal levels. There was more than 50% uptrend in container availability in Singapore and Port Klang across standard container type in January 2021 compared to December 2020. This puts the spotlight on aggressive repositioning and newly built containers contributing to dealing with the crisis. To help port congestion, discover our Estimated Time of Arrival for shipping module
Frequently Asked Questions About: PORT CONGESTION IN ASIA