Sinay x 3D CityScapes partner to create Digital Twins for seaports
3D CityScapes' Digital Twin technology and Sinay's advanced Artificial Intelligence algorithms, data, sensor information, and maritime industry knowledge are well on their way to enhance seaports in an unprecedented way. 
As a new partner of 3D CityScapes, Sinay had the opportunity to ask Digital Twin experts our most pressing Digital Twin questions, regarding benefits, twin technology and solutions, and how this will improve ports and the maritime industry.  
Featured in the article are 3D CityScapes' Founder and CEO, Raza Jafri, Founder and COO, James Borst, and Director of Digital Experience, Salman Hussain. 
Predict the ETA of any vessel for free!
Get an accurate prediction of the ETA of any vessel thanks to our ETA Calculator Module. It's easy, in real-time and free. You just have to sign-up to our HUB.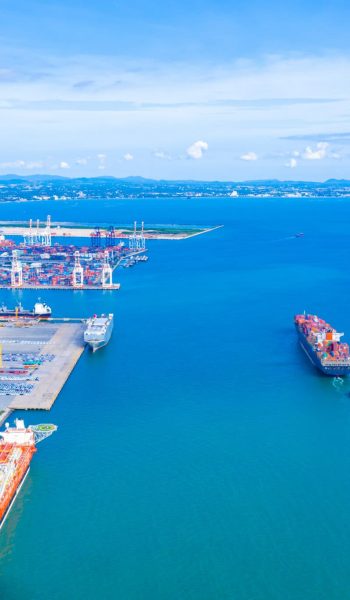 What is a Digital Twin? How does it work?
According to Borst, a Digital Twin is a 3D interactive digital environment that accurately portrays a physical reality.  
 
Imagine a living and breathing digital representation of physical objects that updates in real-time via a virtual simulation. This differs from a model which is an exact representation of a specific moment in time. 
As Hussain explains, a Digital Twin mimics an object's features, dimensions, and creates a very realistic representation of what exists or will happen. Digital Twins can be used for management, real-time monitoring and maintenance, security, and safety, for a range of industries like urban planning, and ports.  
Digital Twins are full of opportunities. They offer insights that allow better performance, better use of resources, and more transparent operations. They can be interacted with, showcased, and moved around in virtually. 
3D CityScapes is a technology and software company based in Canada. They use Artificial Intelligence among many other advanced technologies to create Digital Twins — hyper-realistic representations of the real-world for use in multiple industries.  
The concept of their company was created because: 
"The founders realized there was a significant gap when it came to visualization of any type of development," said Director of Digital Experience Salman Hussain. "There is a significant gap in the market whenever a project gets announced or any upcoming development, the way companies tend to communicate is static images and PDF. That doesn't do justice, it is hard to understand, and does not often relate to people in the age of digitization." 
What's their secret to creating cutting-edge Digital Twins? Advanced gaming technology. 
3D CityScapes uses Unreal Engine and gaming technology to create immersive interactive experiences for cities, property development projects, and Digital Twins of large city infrastructures like seaports and manufacturing facilities. 
As a result of adopting the latest technology used to create the most visually stunning video games, their digital transformation of physical products and systems almost feels like real life.  
"3D CityScapes creates the most immersive and interactive 3D environments in the world for showcasing, marketing, and selling future property developments." – Founder and COO James Borst 
Their technology delivers an experience like no other, and now in collaboration with Sinay, its services will be used for ports as well.  
What is Digital Twin Technology?
According to 3D CityScapes, Digital Twin technology is comprised of a video game engine, Artificial Intelligence, photogrammetry, and streaming systems.  
Unreal Engine

 is one of the best video game engines that allows for an unprecedented level of interactivity and quality.

 

Artificial Intelligence

 supports the creation of 3D interactive environments and the objects within them.

 
Photogrammetry

 allows them to build environments that are further in the distance to help with the digital environment design.

 

Streaming systems 

provide a way for end-users to stream their content to any platform on any device in the world via internet connection.

 
What would it be like to have a Digital Twin for a seaport?
Having a Digital Twin for a port is like having a visually accurate interactive digital model of the port and its surrounding environment that updates in real-time with all current activities fashioned using data collected by various sensors on site. With this, port authorities can run simulations and anticipate key challenges, as well as implement changes quickly to prevent issues that may arise. For example, port authorities could see when vessels are arriving, vehicle traffic around the port, port employee activities, and activities around the port on one Digital Twin platform. All systems are connected, so that employees and managers have complete awareness of the port's operations.  
"For the people that work in operations, it is very important to share real-time information with each other. This does not just increase efficiency, but it can actually save lives." – Founder and CEO Raza Jafri
3D CityScapes takes large volumes of data then connects it to a live environment, enabling accurate forecasting, predictive analysis, and giving employees and managers complete transparency. "It is an accurate up to the second representation of what is happening in real life," says Borst.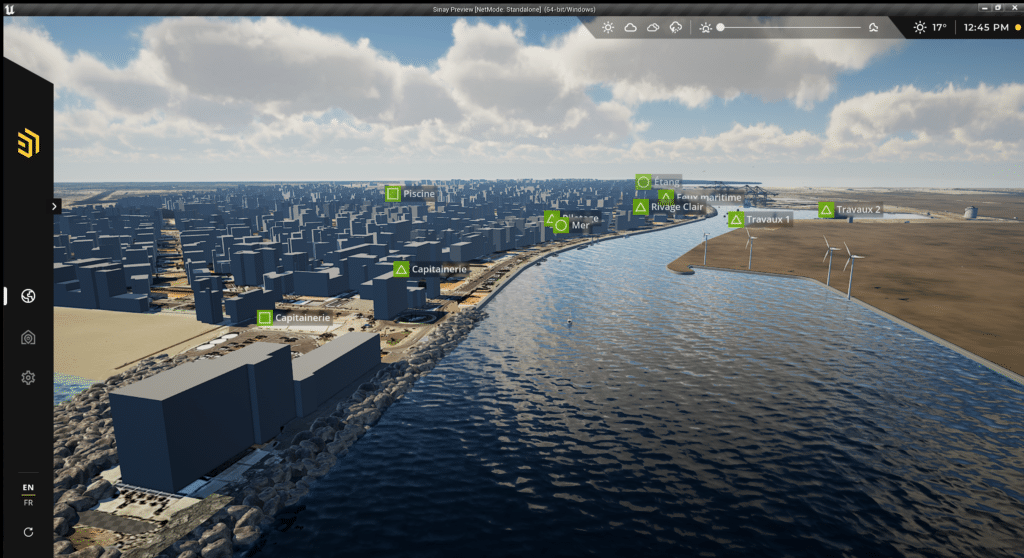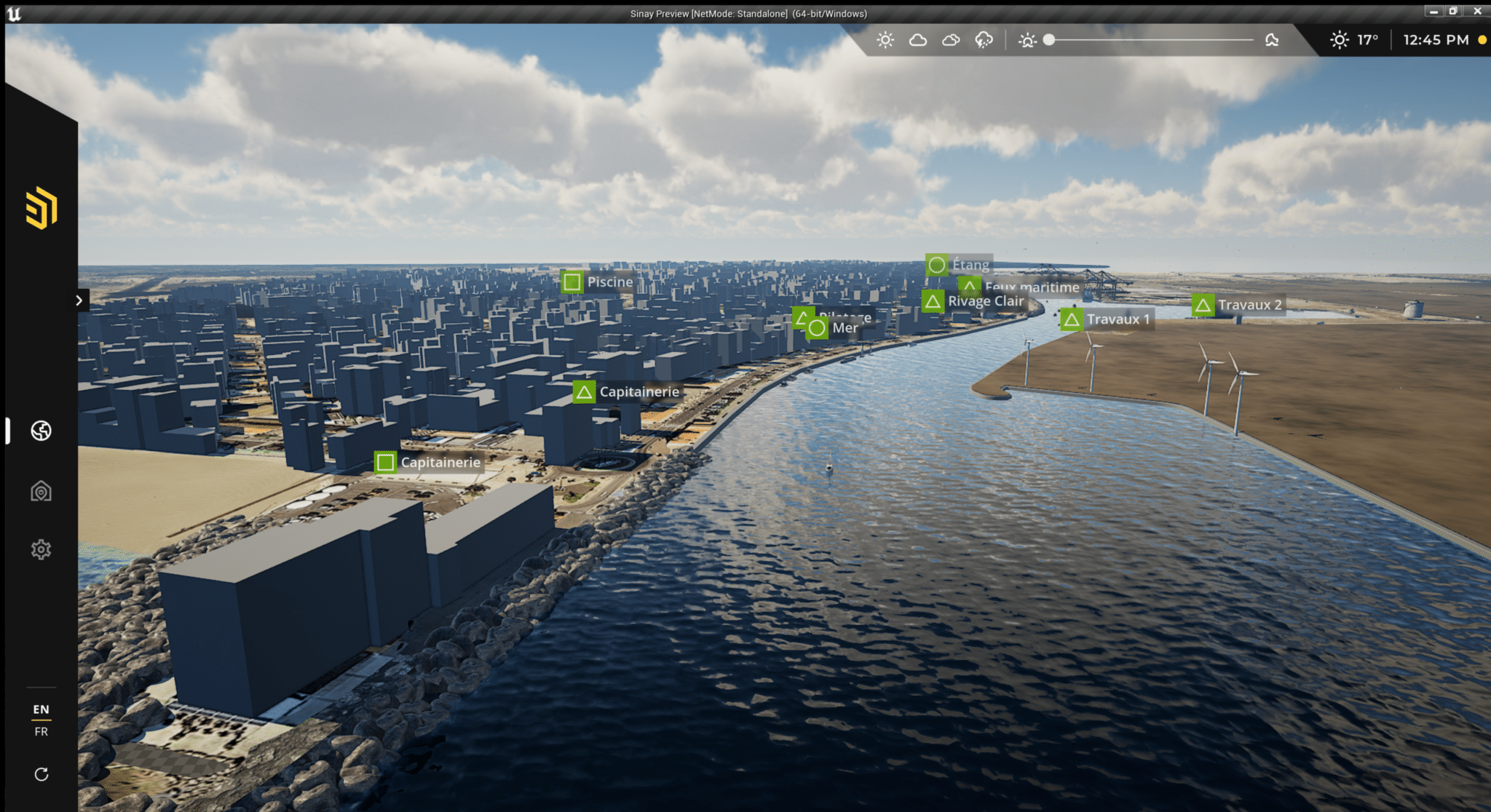 What are port challenges that Digital Twins could help with?
As CEO and Founder Raza Jafri notes, "seaports are going through immense digital growth right now, which comes with challenges." 
Ports are still using outdated systems that have been in place for decades, and there is thus a lack of digitization and safety in port processes, applications, and production, Hussain points out. Most ports do not have access to a virtual platform showing real-time activities. Ports are full of activities, and so a Digital Twin would provide much-needed transparency and safety for port authorities and port employees with real-time operational awareness.  
Port community safety would also be improved. For example, if port construction is happening near a residential area, sensors can track potential hazards, displaying them in real-time on a virtual platform, so that port authorities know of any potential impact the activities could have on the surrounding communities. 
Port Congestion and Supply Chain Blockages
Port congestion has been a growing worldwide issue highlighted by the COVID-19 crisis. Ports are lacking major resources to process cargo, containers, and vessels efficiently, which can lead to disrupted supply chains and increasing maritime traffic each year. This affects business and industry systems, production, and manufacturing, and consumers. 
A Digital Twin would address port congestion as it allows better management of port resources with forecasting and precise prediction. If ports are prepared for incoming vessels, resources are efficiently used. Port employees and trucks can prepare for when a ship docks, and on the other hand resources are not wasted.  
"We understand that the decisions we make today can impact our future. This is a very good time for seaports to recalibrate in the direction that they want to go. Using the latest in technology, hopefully we can help make these transitions much more seamless." – CEO and Founder Raza Jafri 
Thanks to data, Internet of Things (IoT) sensors, and a 3D environment, Digital Twin technology would provide transparency for port authorities and the entire maritime industry.  
"Having an accurate representation of the port, of the sea, or the ocean around it is very important. We cannot look at things and imagine exactly what [they are] going to look like." – Founder and COO James Borst  
Essentially, Digital Twins allow ports to optimize data and transform it into to be used in a clear and useful way.  
Benefits of Digital Twins for seaports
A port is a point of entry into the nation. Their impact on the global economy and supply chain is tremendous. A Digital Twin enables better management of assets with less environmental impact.  
With reliable and understandable data simulated in real-time, work becomes easier.  
Ports are composed of many different activities and moving pieces, and with a Digital Twin all these pieces can be seen, controlled, and managed. Truck traffic, ship traffic, port capacity, cranes, TEUs (containers), and other industrial sites on ports, like oil and gas, can be tracked and monitored.  
"A Digital Twin shows you all your moving pieces in real-time allowing you to effectively manage and proactively prepare and problem solve any challenges that you foresee." – Director of Digital Experience Salman Hussain 
Predict the ETA of any vessel for free!
Get an accurate prediction of the ETA of any vessel thanks to our ETA Calculator Module. It's easy, in real-time and free. You just have to sign-up to our HUB.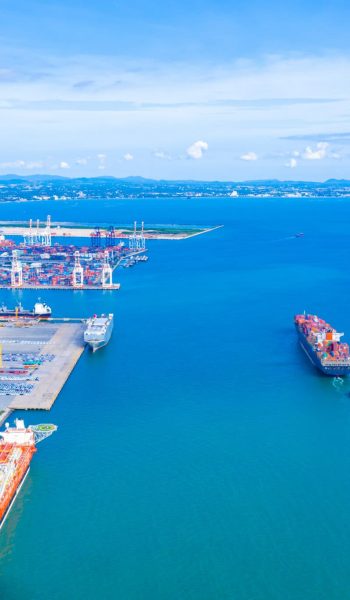 Where will Digital Twins Take Us in the Future?
"The direction that we are going now is just the beginning. The future of Digital Twins is immense." Founder and CEO Raza Jafri 
"Every facet of our lives there is digitization." – Director of Digital Experience Salman Hussain 
"Everybody who sees it and witnesses it wants to use it." – Founder and COO James Borst  
We are living in the age of digitization, which translates to better business decisions and a better understanding of the environment, like pinpointing the exact CO2 emissions coming from a particular vessel can be seen in real-time.  
The use of Digital Twin technology will increase in the coming years with more virtual replicas of physical objects popping up in every industry. Especially for the maritime industry, Digital Twins will lead to more transparency and could be the answer to major challenges like port congestion, environmental damages, and the container crises. The value that they offer is immense. 
3D CityScapes x Sinay produce hyper-realistic Digital Twin port
Together, 3D CityScapes and Sinay are set to create advanced Digital Twins of seaports. 3D CityScapes, an expert in Digital Twins, will use Sinay's maritime data to create an extremely accurate representation of all moving pieces of ports in real-time.  
"This partnership will create living, breathing digital ports." – Director of Digital Experience Salman Hussain 
Sinay's data – which includes water, air, and noise quality, biodiversity, ship and truck traffic, and the time it will take for a ship to berth – is a very powerful decision-making tool that will be represented on an immersive interactive digital platform created by 3D CityScapes. 
This partnership will introduce Sinay to the world of Digital Twins, and 3D CityScapes to the maritime industry.  
"We would like to be the tool that allows people around the world to make better decisions for the betterment of all of us." – Director of Digital Experience Salman Hussain 
Frequently Asked Questions About: DIGITAL TWINS
More information about this Partnership?