Your Air Quality Monitoring Manager
The Sinay Air Module is an easy-to-use real-time air quality monitoring system, connected to an innovative dashboard where you can aggregate all air monitoring projects with complete autonomy.
You can monitor all key air quality indicators depending on the type of sensor; among which, sulfur dioxide (SO2), nitrogen dioxide (NO2), and particulate matter (PM1, PM2.5, and PM10).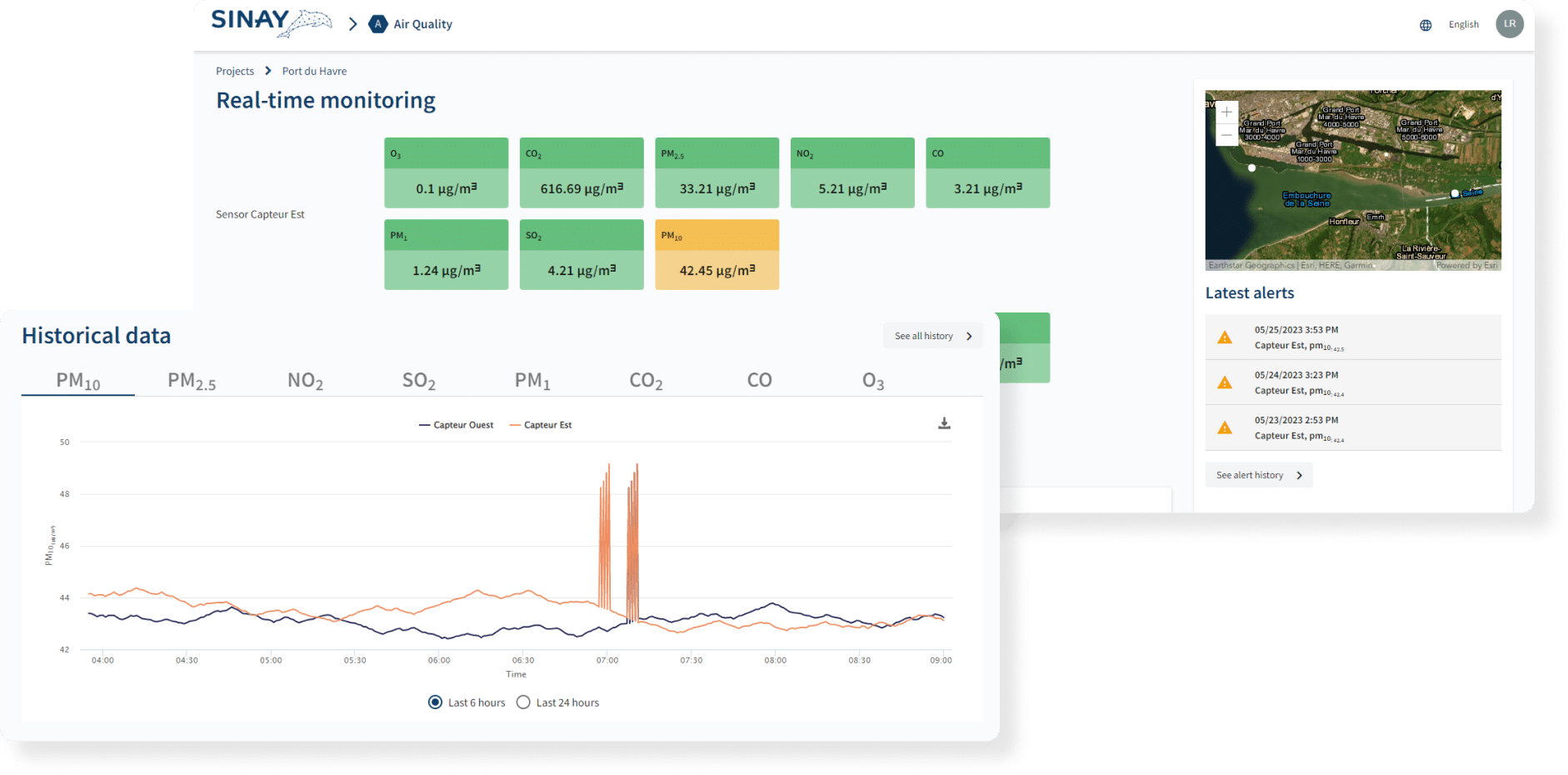 Simplify Air Pollution Prevention
Monitor air quality compliance across multiple sensors – together in one place.
Use real-time monitoring data to make
fast & accurate decisions.
Generate reports in real-time to easily comply with regulations instead of waiting months for outdated information. 
Intuitive and easy-to-use
Define the monitored area
Define the area of your project which can be anywhere in the world by selecting the map
Select your sensor types and position them
Connect your sensors to the module by FTP, API, and others protocols
Set your alert thresholds
Set your alert thresholds according to your specifications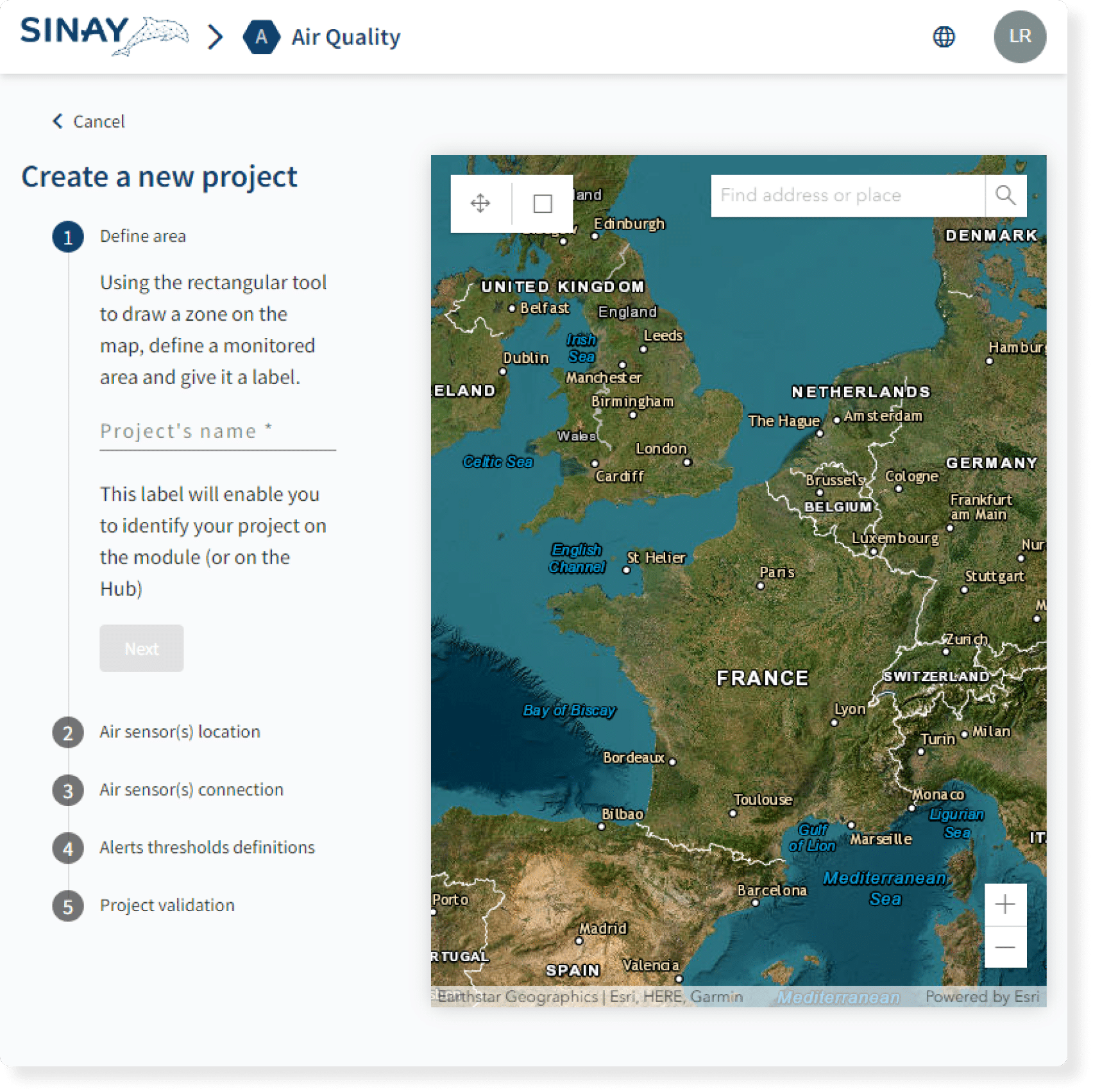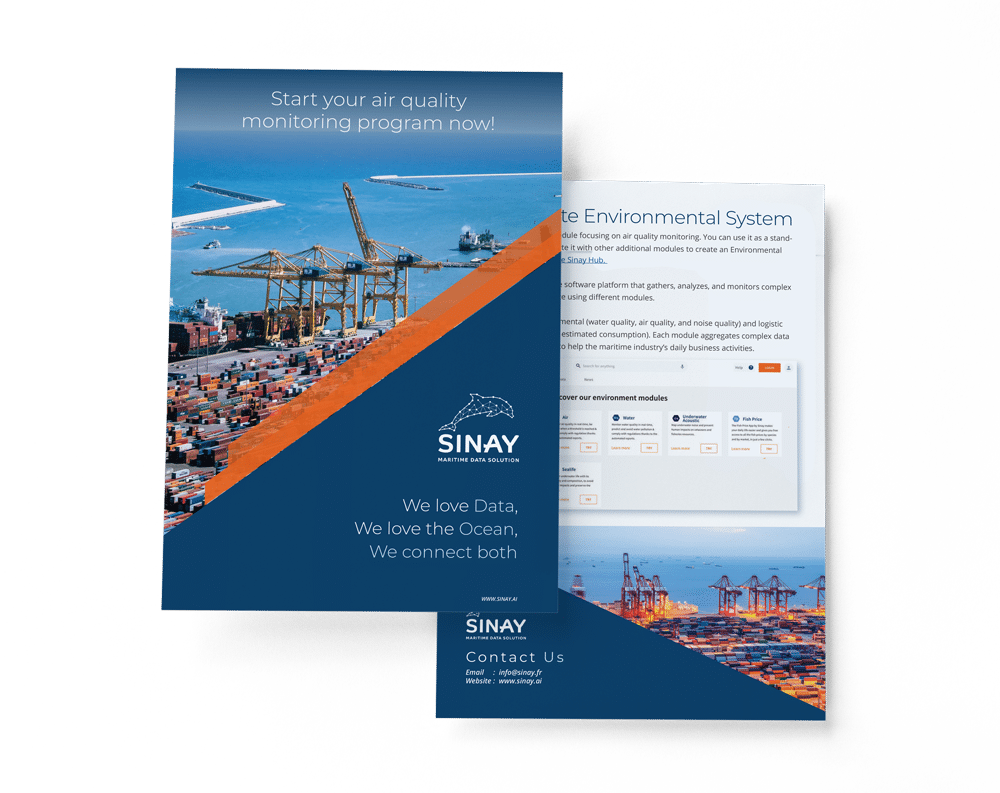 Discover how our Air Module is revolutionizing air quality monitoring. Download our Product Leaflet
Use cases for the maritime industry
Designed for Ports and Shipping
Ports can benefit from the Air Module for their daily activities like construction, docking vessels, industrial activity, managing truck traffic, complying with regulations…
Thanks to the Air Module, ports can have real-time situational awareness to help them make the best decisions to percent air polluting events.
Air quality is also crucial for the shipping industry to make sure their emissions and activity do not harm the surrounding environment, marine health, or human health.
The Air Module, with real-time knowledge and smart alerts, helps shipping companies to monitor toxic levels in fuel emissions, reduce their environmental impact, avoid areas already in environmental danger, comply with regulations…
Sustainable Development Goals
Through real-time air quality monitoring, regulatory compliance, and air pollution reduction thanks to the Air Module, Sinay helps minimize the impact of maritime activities to reduce air pollution and climate change.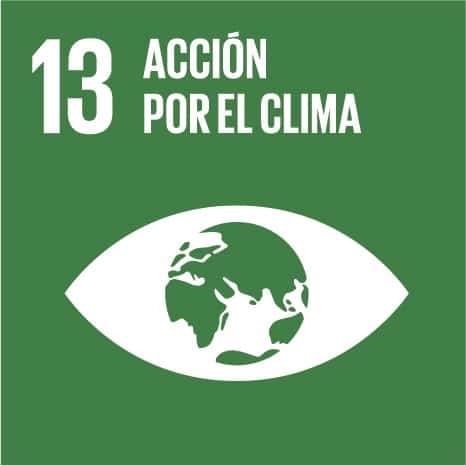 Predict and prevent air pollution from your dashboard
Aggregate all your air monitoring projects
Our Air Quality Module allows you to manage air quality for each sensor in real-time, depending on the pollutants you monitor.
You can:
easily browse through the historical data over specific periods of time to identify trends and patterns
define your own thresholds parameters
be notified in real-time when they're exceeded to make the best decisions
generate standardized or personalized reports and create your communication media.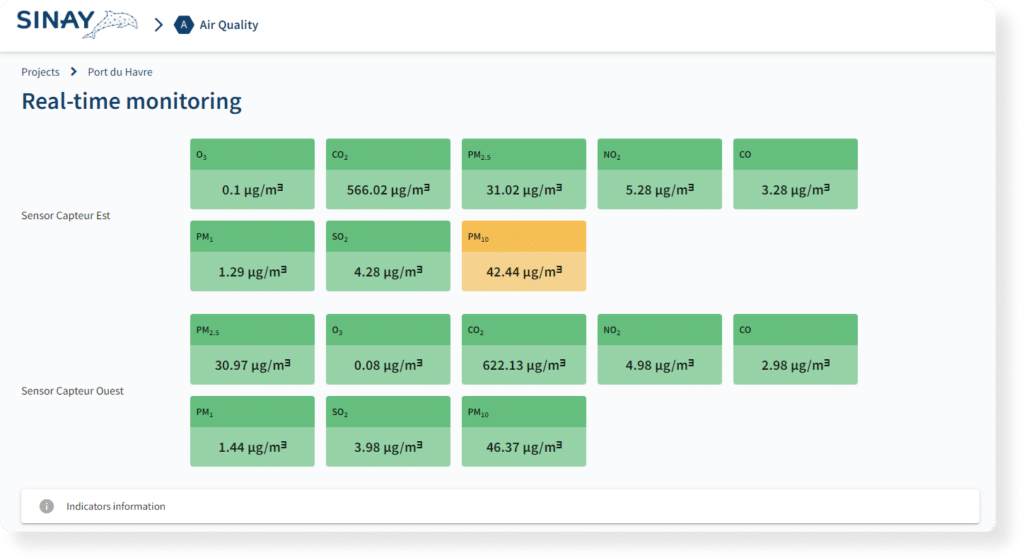 Active air quality measuring thanks to an intuitive and easy-to-use dashboard
Air quality is the condition of how clean or polluted the surrounding air is. Air pollution is present in ports and surrounding cities. If left unmonitored, air pollutants can cause many health and environmental issues. 
The passive method of measuring air quality consists of filtering air for a period of time and then analyzing this in a lab. This does not provide continuous information in real-time. Sinay, therefore, created an active air quality monitoring system, which consists of connecting to sensors that can provide key air quality indicators in real-time. The Sinay Air Module gives ports accurate situational awareness with active, real-time, air quality monitoring.
Air Monitoring Whitepaper
Discover why air quality is important for ports, how air quality is checked and controlled, and why our innovative software can be your air quality monitoring manager. Download our Whitepaper.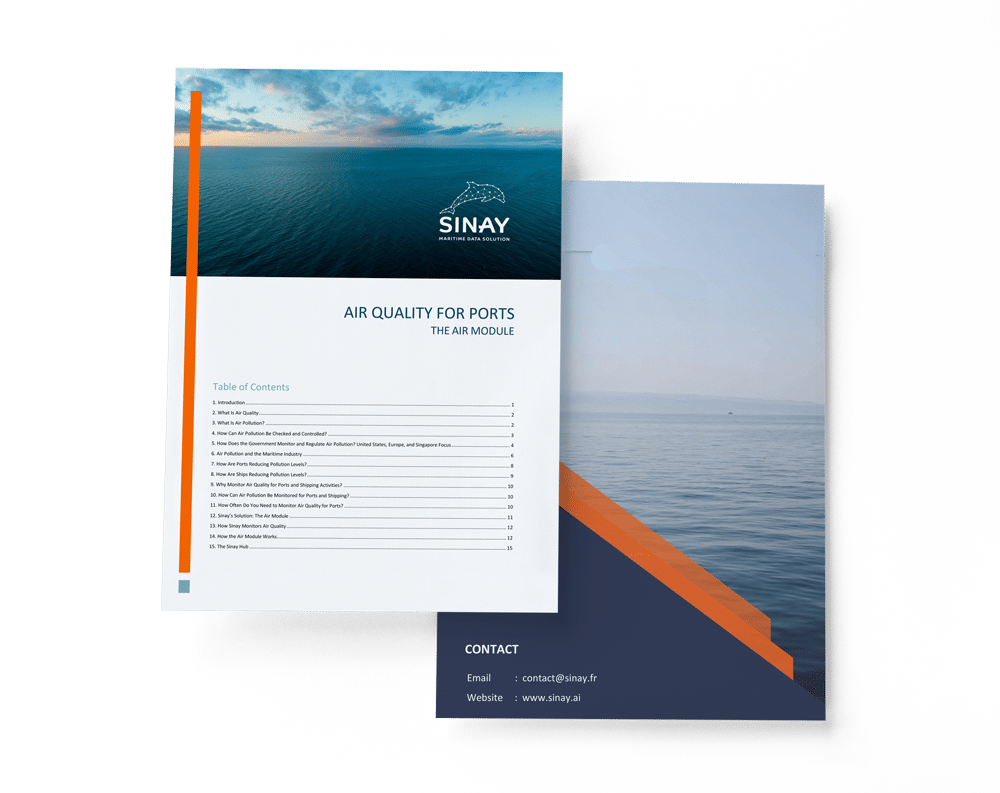 FAQ About Air Quality Module
Let's solve your air quality challenges
Environmental Monitoring: Focusing on data for effective decision making
Choose one module to solve one specific pain point or combine several modules to monitor efficiently your environmental footprint.
Save time and money thanks to the key indicators.
Predict the best maritime route to optimize fleet rounds & fuel consumption.
Deliver a preliminary metocean analysis and the associated report in just a few minutes.
Monitor air quality in real-time, be alerted when a threshold is reached & easily comply with regulation thanks to the automated reports.
Monitor water quality in real-time, predict and avoid water pollution & comply with regulations thanks to the automated reports.
You may also be interested by those others environment application :
Featured Content About Air Quality Monitoring Air Monitoring
As the modern world continues to expand thanks to technology & globalization, cities & industries grow and evolve with it—but so does their waste.
Read More »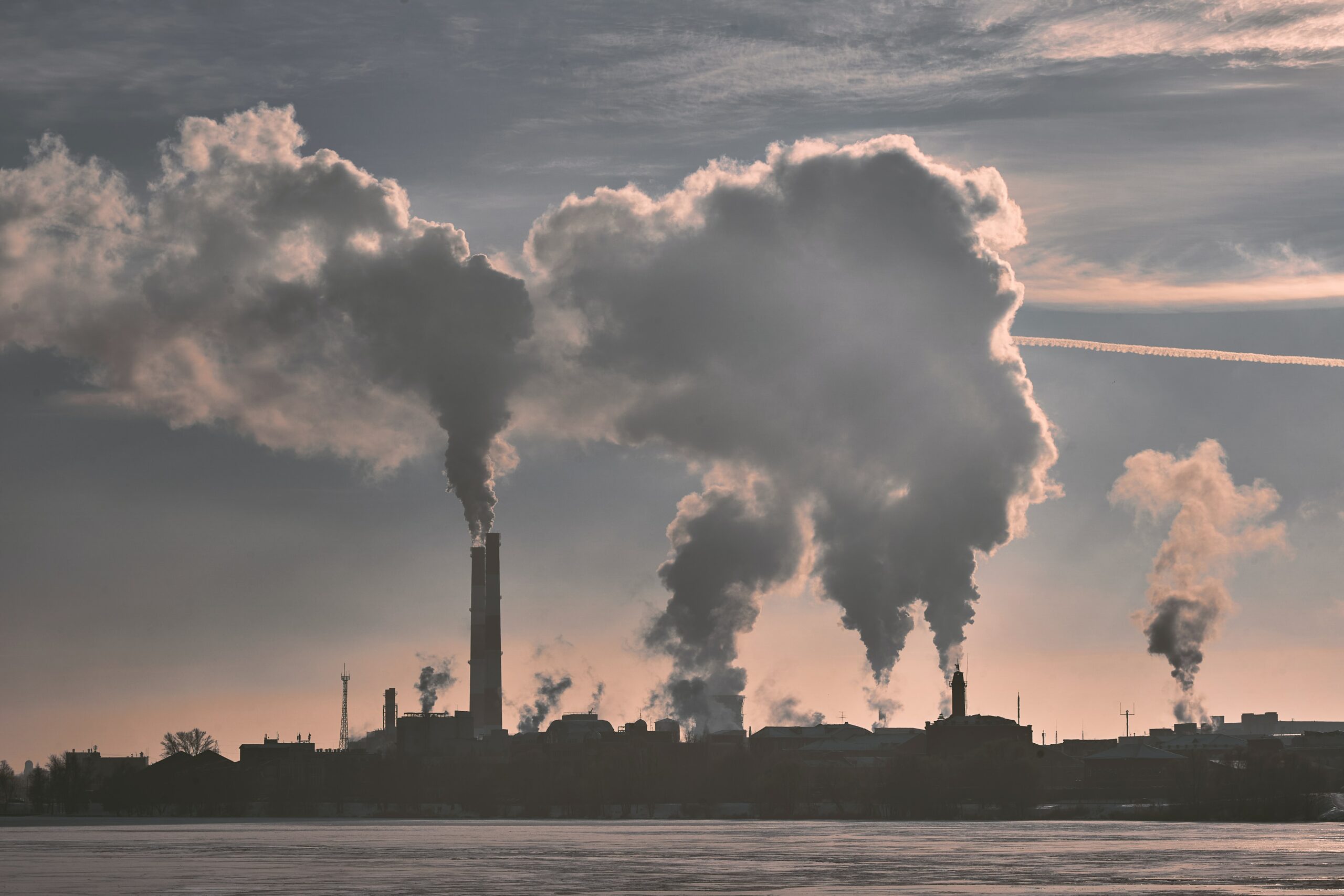 Air Monitoring
Thanks to the expansion of industrial and commercial activities in cities, factories, and ports, air pollution in these areas have significantly risen to the point
Read More »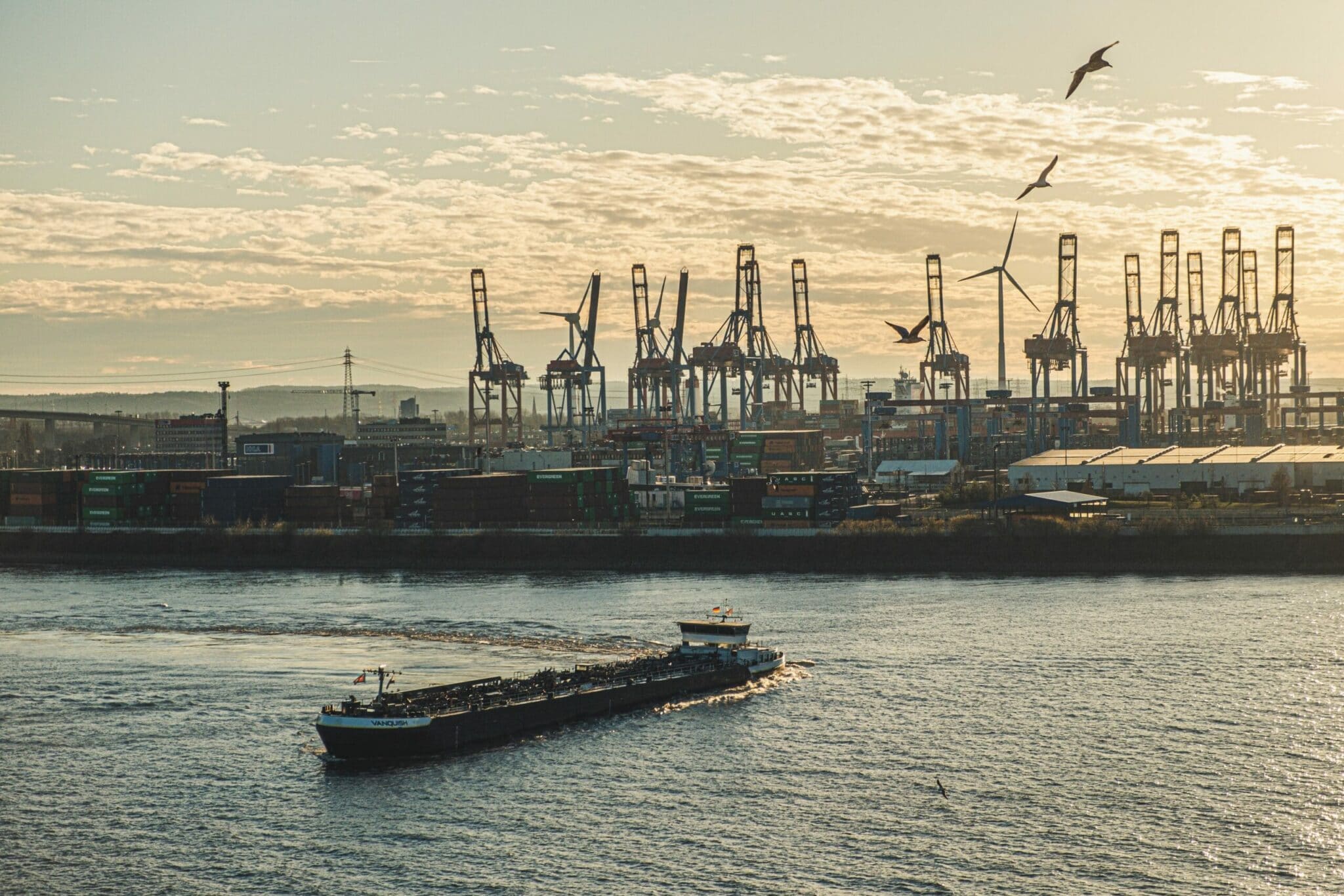 Air Monitoring
Ports and the shipping industry both impact short- and long-term air quality; however, both players can take action to improve their harmful emissions near coastal
Read More »
How does air pollution manifest itself?
The risks of air pollution come from several factors. First of all, the presence of industrial activity areas, such as factories or a port, leads to an increase in pollutants nearby. Second, living in an area with a high population concentration increases the density of pollutants in the ambient air. For example, cities in the United States such as New York or Los Angeles are particularly exposed. This is even more prominent during peak urban activity, when many vehicles are driving. As areas of activity and densely populated cities are often close to or inseparable, regular pollution peaks will occur and can increase over time if these events are not monitored. 
What are the health consequences?
Pollutants in the ambient air can have multiple daily consequences, including health. Fine particles is an ongoing risk because it damages respiratory capacity. In the long term, this increases the number of lung cancers and chronic diseases such as allergies for example. The larger and denser the city, the more these risks threaten the health of the inhabitants. 
How can air pollution be monitored?
To reduce the health consequences of air pollution, it must first be noted. To take the most effective measures to improve air quality, it must be measured. Using sensors spread over the areas to be monitored, it is possible to locate pollution peaks, identify critical schedules and the main pollutants. Once pollution is measured, appropriate action can be taken to improve air quality in activity areas, cities and preserve the health of residents.