According to the IMO, over 90% of the global trade is carried by sea, dry bulk and break bulk or in containers. Ocean shipping lanes hence are crucial to the sea freight industry and the world economy as a whole. But although there is a high number of shipping routes, there are important discrepancies in traffic density. Some are true "maritime highways" whereas others are less used for trade. Let's see what the busiest maritime routes are. 
What are the most important global trade routes across the world?
Every day, the sea and lake routes across the world are used by thousands of ships of all sizes for commercial shipping. 
What are sea shipping routes?
Shipping routes  are the navigating lanes, both natural and man-made, in wide waterways (oceans, lakes…) used by large vessels to connect major ports and carry cargo. These routes allow efficient, safe and economic transportation of goods while offering the shortest sailing times. 
How to Track a Ship In Real-Time ?
Let us look at how a ships' real-time tracker works, its details and features, its benefits for all players in the shipping sector but also its weaknesses…
What are the most strategical shipping routes in the world?
Depending on the trade requirements, some of these shipping routes are more used than others. Here are some of the major world trade ocean lanes in terms of volume: 
The Dover Strait or English Channel

 
Connecting the North Sea and the Atlantic Ocean, it is used for 25% of trade between European countries and the United Kingdom, making it a critical link. An estimate of 500 ships navigates through this channel every day, carrying 22% of British imports from the EU and 30% in the opposite direction. 
Located near Indonesia, Malaysia, Singapore, connecting the Pacific and the Indian Ocean, it is the main shipping lane into and out of Asia, but also intra-Asia, linking the region's biggest economies (India, China and Japan) and other countries like Thailand, Indonesia, Malaysia, Philippines, Singapore, Vietnam, Taiwan, and South Korea. More than 83,000 vessels pass through it every year, which represents 40% of the global sea traffic. 
Also being the shortest pathway between Persian Gulf and Asia, the Strait of Malacca is a major route for energy products transportation, especially for China. About 61% of global petroleum production (one-third) transported by sea cross the world second-largest trade checkpoint for oil. 
This artificial seaway was created to connect Asia and the US East Coast, which is the number one shipping trade route. It is a direct lane between the Atlantic and the Pacific Ocean, used by nearly 14,000 vessels every year.
Located in the north-east of Egypt, the Suez Canal is the shortest sea route between Asia and Europe, crossing the Red Sea. It is one of the most popular and heavily used trade routes with approximately 19,000 ships passing daily. These represent 12% of global trade and 30% of global container traffic. It is also the main regional shipping hub for the world's oil (7–8%), hydrocarbons and liquified natural gas (8%) from Asia and the Middle East to Europe. 
Linking the North Sea and Baltic Sea, The Øresund, the Great Belt, and the Little Belt are key channels for trade in Russia and Europe,  
40 to 50 million tons of cargo are shipped annually through the USA and the upper regions of Canada, including smaller ports. 
The Strait of Hormuz

 

The Strait of Gibraltar

 

The Bosphorus Strait

 
What are the volume of cargo and commodities transported on main shipping routes?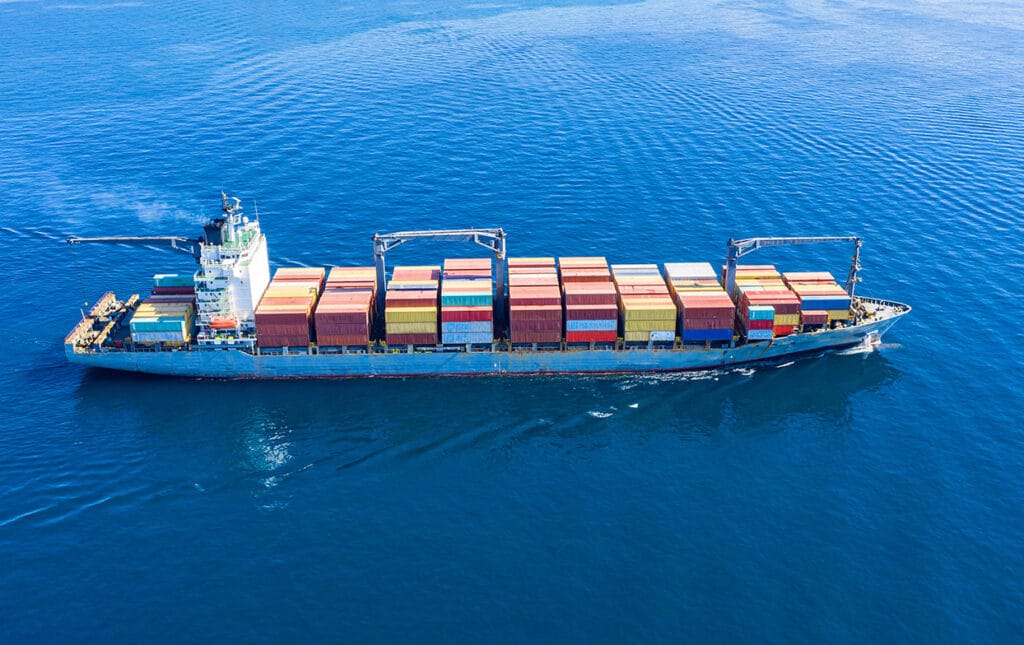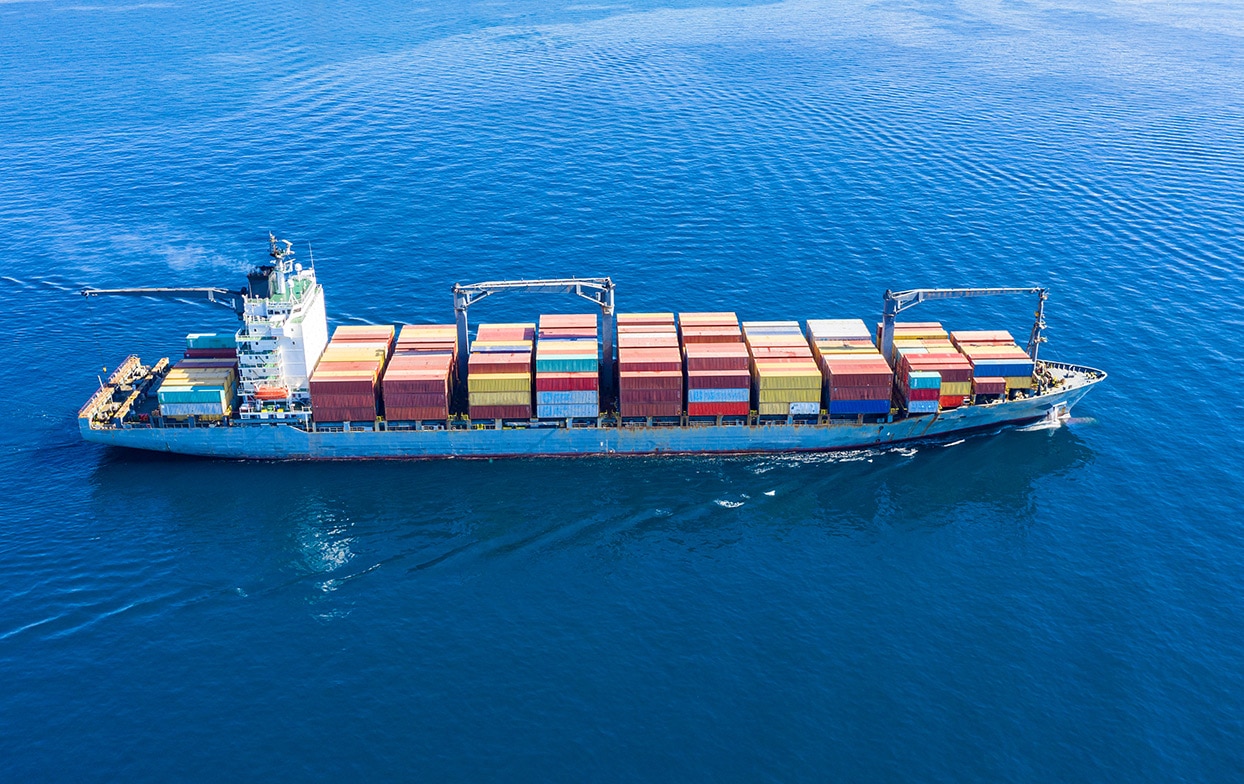 More than 50,000 vessels move around the world every year, carrying millions of containers. In 2020, 25 million TEUs of cargo flows have been transported on Trans-Pacific routes. The Europe-Asia-Europe route ranks second with 23 million TEU accounted. A total of approximately 11 billion tons of goods are handled yearly by the shipping industry. When reported to the current global population, this volume represents on average 1.5 tons per person. 
The cargo vessels carry a huge variety of goods: petroleum and oil products, mineral ores, raw materials, machinery, vehicles, equipment, chemicals, grains, packaged or frozen food, spices, factory parts and other finished goods. 
Why are some shipping routes more crowded than others?
Several reasons affect the traffic flow, leading to some shipping routes being more used than others throughout the world: 
volume of goods carried from an area to another

 
one-way or two-way traffic

 

natural constraints like winds, ocean currents, weather …

 

physical constraints such as coasts, reefs …

 

piracy risk.

 
Yet the shipping companies choose the safest and most cost-effective route for their vessels so that the cargo and crew arrive at the destination on time and in the best possible condition. Taking all the above-mentioned parameters into account, the imbalance of traffic on some routes is easily understandable.  
But the first criterion certainly carries more weight in the routing decision. As a matter of fact, frequency of trade is higher on some sea routes. Due to the massive import or export demands, the most frequented sea route worldwide is between China and the United States. But the routes linking Asia and Europe or China and UAE or intra-European countries (Suez Canal, Dover, Strait of Malacca) are also major commercial shipping hubs whereas smaller markets, of course, have lower traffic flow. Other places are points of passage for hundreds of ships every year, which creates high traffic surges. For example, cargo surplus is common in the Europe-Asia and transpacific routes. 
How to Track a Ship In Real-Time ?
Let us look at how a ships' real-time tracker works, its details and features, its benefits for all players in the shipping sector but also its weaknesses…
How can digital solutions help to improve cargo management?
The trade imbalance raises multiple issues: congestion on some marine lanes and inside ports, overstock of empty containers in some regions, and lack in other areas. In order to better manage good transportation through complex ocean lanes, companies and freight forwarders have to improve their processes and tools. They can rely on technology solutions provided by logistics tech specialists for various essential tasks: find the best routes, calculate the shipping time and get an accurate ETA, obtain competitive freight rates, place a booking, track their cargo, optimize port operations, etc. 
Using new technologies such as Artificial Intelligence, Big data, IoT and blockchain, Sinay is a renowned supplier of logistic modules to predict ETA, reduce vessel fuel consumption, lower the maritime industry's carbon impact, choose the best route plan and get relevant and real-time statistics that allow fast and effective decision-making. 
Conclusion about the major shipping routes
As world trade grows, sea shipping will keep on expanding very fast. This means that in the coming years, the actual major shipping routes will become busier and may face an unprecedented surge in traffic. Therefore, all players in the maritime industry (companies, freight forwarders, port authorities…) have to find more efficient ways for managing ships, shipping trade routes, transit time, cargo ports and containers. Digitalization is key to taking the challenge of optimizing shipping networks.  
Frequently Asked Questions About Shipping Routes