Climate change is one of the most pressing issues of our time, with the rapid increase of greenhouse gas emissions causing severe and lasting impacts on the planet's ecosystem.
In response, the European and, eventually, the global community has recognized the need to transition towards a net-zero emissions economy by 2050, where the amount of greenhouse gases emitted into the atmosphere is offset by the amount removed.
This requires significant action, including decarbonization, reducing emissions from an activity, or the development of methods to offset these emissions. In this text, we will explore the strategies that can help us achieve decarbonization, including reducing our reliance on fossil fuels, producing electricity from renewable sources, capturing and offsetting emitted gases, and achieving energy efficiency.
Carbon and Life on Earth: A Delicate Balance Under Threat
Carbon is a fundamental element that forms the basis of all life on Earth. Every chemical union in the organic life on the planet consists of carbon. Despite the ecosystem's delicate balance on Earth, the planet has overcome various obstacles to sustain life and evolve intelligent species, including humans. However, in recent times, human activities have disrupted this balance and are now threatening our very existence.
The industrial revolution, which began in the 18th century, marked a turning point in human history and led to the widespread use of fossil fuels. The rapid development of technology has only accelerated this process, leading to another modern-day phenomenon, the greenhouse effect.
Data indicate that the human-caused increase in global surface temperature can be accounted for 1.07 Celsius due to approximately 59 GtCO2-eq of anthropogenic GHG emissions in 2019, 54% more compared to the 1990 levels (21 GtCO2-eq).
The effects of such actions can be observed in the atmosphere, ocean, cryosphere, and biosphere, causing many weather extremes, with 3.3 to 3.6 billion people classified as highly vulnerable to the results of our destructive actions.
Many industries are being disrupted by the need for transformation, and the maritime industry is under increasing pressure to reduce its footprint as the world faces climate change impacts.
Net Zero Emissions: The Ultimate Goal of Decarbonization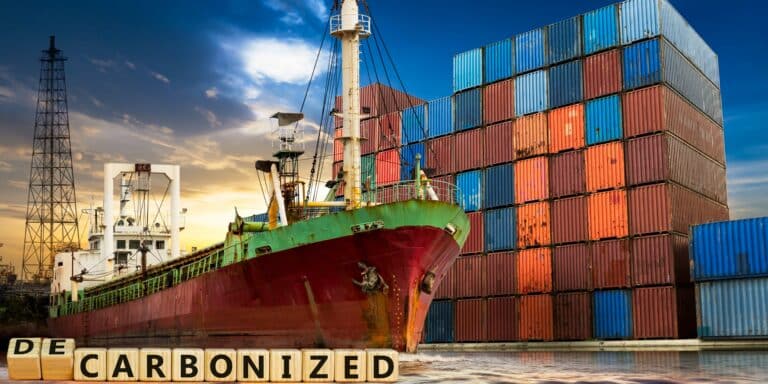 Decarbonization was first brought to the public's attention by inventor William E. Ahern in 1915. He developed a process to remove carbon residues from internal combustion engines. Since then, technology has rapidly advanced, and the meaning of decarbonization has evolved. Today, decarbonization refers to reducing emissions from an activity or introducing methods to offset these emissions.
In essence, decarbonization is the process of transitioning from a carbon-intensive economy to one that relies on clean energy sources to achieve net zero emissions.
Net zero refers to a state where the amount of greenhouse gases emitted into the atmosphere is offset by the amount removed, resulting in "climate neutrality." Getting to net zero requires significant action, such as reducing emissions, investing in green technologies, and preserving natural habitats. It is considered the standard benchmark for decarbonization.
The Road to Net Zero 2050: Challenges and Strategies for a Decarbonized Future
The path toward 2050 in a net zero world is challenging. Many moving parts have to align perfectly. The private and public sectors need to create strategies and embrace innovation. 
Decarbonization is critical for mitigating the negative impacts of climate change. The main strategies that will help us lead to decarbonization are:
Reduce reliance on fossil fuels.
Burning fossil fuels for electricity and heat accounts for 25% of global emissions. Extracting, refining, and transporting it accounts for an additional 10 % as per reliable data sources. Hence, our reliance on fossil fuels is causing much harm. For example, even though European countries and the USA have taken actions to reduce coal in their electricity production mix, coal still represents one-third (37% 2020) of the global electricity produced, mainly driven by Asia.
To reduce our reliance on fossil fuels for a net-zero emissions world by 2050, we need to transition towards sustainable energy sources such as solar, wind, and hydroelectric power. In addition, reducing the usage of fossil fuels requires policies and investments that promote clean energy, energy efficiency, and green transportation. We must also implement measures to reduce energy consumption, such as building insulation and intelligent grid systems.
In the maritime sector, which still uses marine oil as a fuel, a great debate is ongoing, trying to identify the next fuel for maritime use. Many ongoing projects assess data to determine the viability of biofuels, hydrogen, and ammonia either as a single fuel or in a dual-fuel setting as the technology matures.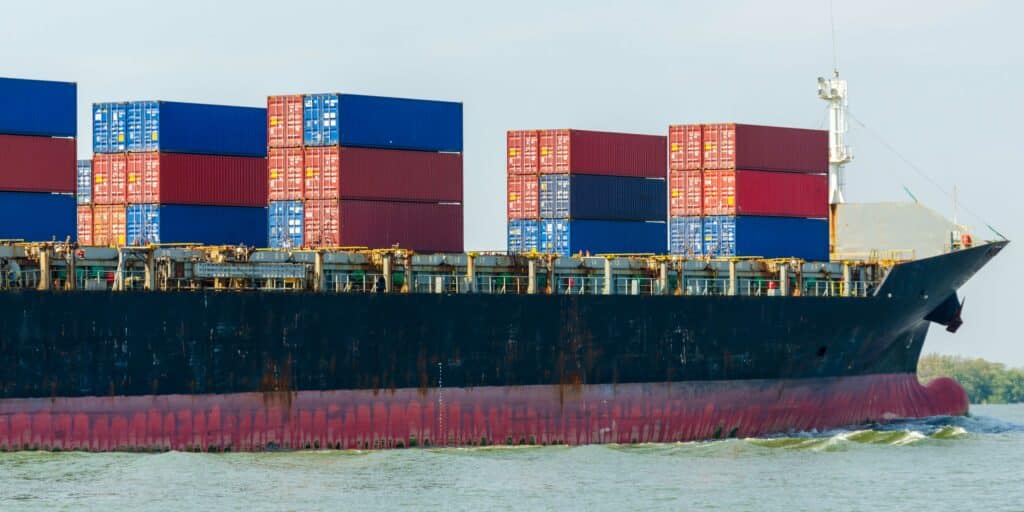 Produce electricity from renewable sources.
The quest for electricity from infinite sources is definitely not new, with hydroelectricity being considered the first renewable energy source dating back to the 1800s. Significant investments have been made into hydropower, with the biggest project being the Three Gorges Dam in China, which can produce 17% of China's electricity generation.
Nuclear power is also considered an inexhaustible source which grew in popularity in the 1970s, especially in European countries, accounting for 18% of global energy production. Unfortunately, some high-profile accidents steered away European counties, retiring their nuclear reactors and flattening the percentage of nuclear in worldwide output to 10%.
Today the attention has heavily shifted towards the potential of wind and solar power to be the ones that will remove fossil fuels from electricity generation. With the current rate of increase in wind and solar energy capacity, it is projected to surpass natural gas in 2045. Still, it is essential to note that they can only totally replace fossil fuels once proper accompanying technologies mature that will be able to dispatch the capacity equally during any given day.
To achieve a net zero future, governments have to take actions to accelerate the adoption of sustainable energies and invest in R&D of supporting technologies such as storage and a modern grid. Additionally, greenhouse gas emissions must have a high price, with initiatives such as the EU ETS and the USA's cap-and-trade system going in that direction.
Energy efficiency strategies are needed, such as building retrofits, smart grid technologies, and transportation electrification. To achieve this goal, countries and cities must implement policies promoting energy efficiencies, such as building codes and standards, tax incentives, and public education campaigns.
Additionally, businesses and individuals can reduce their footprint by adopting energy-efficient practices and technologies, such as LED lighting, efficient appliances, and renewable energy systems.
In maritime, IMO placed extreme importance on improving the energy efficiency of existing and new vessels by publishing guidelines and regulating energy efficiency standards. In addition, vessel design is critical in its efficiency, with naval architects aiming to improve the flow profiles around the hull, rudder, and propeller and trying different types of bows.
Furthermore, machinery manufacturers are working tirelessly to deliver better and more efficient machines addressing every vessel operation, from cargo handling to navigation.
Finally, operational decisions can significantly affect the energy efficiency of vessels, with slow steaming, proper utilization, and hull cleaning being at the forefront of critical factors to consider when operating a vessel.
Capture/offset emitted carbon
Carbon capture and storage (CCS) can play a critical role in our efforts to save our planet. CCS can work to offset the emissions we cannot avoid and should not be considered a free pass to emit as long as we capture an equivalent quantity. The International Energy Agency has claimed that CCS has the potential to reduce global CO2 emissions by 17% by 2050.
In maritime onboard CCS, systems are rising in popularity, with ongoing projects showing great results for the potential of the technology, mainly for post-combustion capture. However, even though the science behind the technology is sound, examining the financial feasibility of such projects with onboard capture and storage is still considered an expensive endeavor.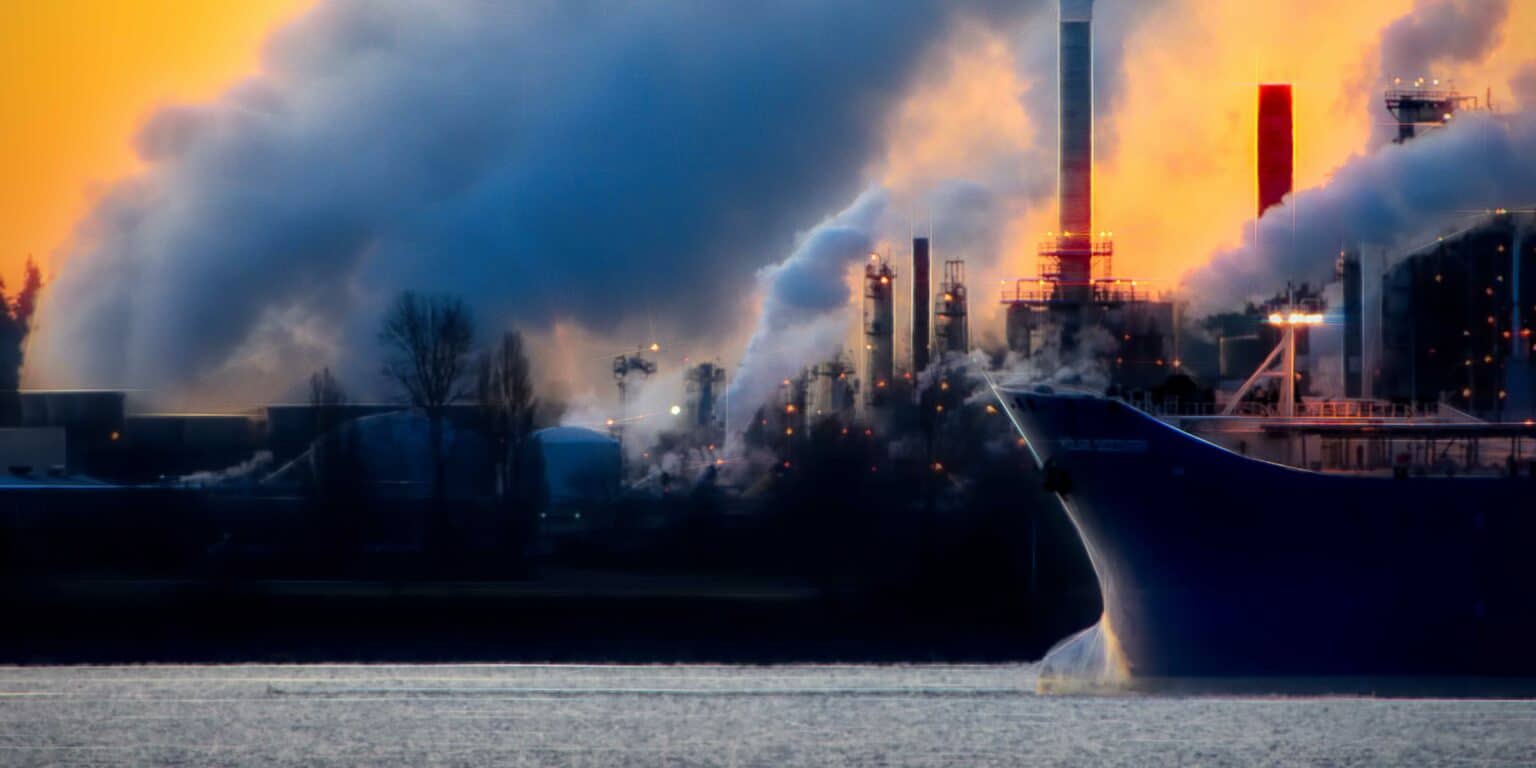 From Paris to the Oceans: How the Maritime Industry is Combating Climate Change
The Paris Agreement, signed on 12 December 2015, marked a significant milestone in the global fight against climate change. Under the United Nations Climate Change Department, member countries agreed to implement measures to reverse the decline of our planet.
The primary goal is to combat the rise in global temperature caused by greenhouse gas emissions. The agreement aims to limit the temperature rise to no more than 2 degrees Celsius above pre-industrial levels, with a further effort to limit the rise to 1.5 degrees Celsius.
To achieve the desired outcome, the Intergovernmental Panel on Climate Change (IPCC) introduced the ambitious and challenging goal of achieving Net Zero by 2050. This goal requires that all greenhouse gasses be offset when introduced into the atmosphere by 2050.
EEXI and CII Regulations: Stepping Stones towards a Sustainable Maritime Industry
The International Maritime Organization (IMO) has been working for the last 50 years on publishing regulations that will mitigate the adverse effects of shipping on our planet. The ambitious target of net zero emissions by 2050 is rapidly approaching, and shipping is gearing up to meet this challenge. From January 2023, the implementation of two critical regulatory measures, the Energy Efficiency Existing Ship Index (EEXI) and the Carbon Intensity Indicator (CII), came into force. The EEXI aims to improve the energy efficiency of existing ships, while the CII measures the carbon intensity of shipping operations. These regulations will have significant implications regarding compliance and the transition to a decarbonized future.
Implementing the EEXI and CII regulations is critical to achieving net zero emissions in the maritime industry. The EEXI will require ships to meet minimum energy efficiency standards based on a vessel's age, size, and engine power. The CII will measure the carbon intensity of each vessel's operations based on its actual fuel consumption and distance traveled. While the EEXI is expected to drive improvements in energy efficiency, there is some debate about the effectiveness of the CII as a measure of emissions reduction.
Some argue that the CII is a good starting point, as it will precisely measure a vessel's emissions and incentivize ships to operate more efficiently. However, others argue that the CII needs to go further, as it only measures emissions intensity rather than absolute emissions. This means that a ship with higher absolute emissions could still have a lower CII than a ship with lower emissions but higher energy consumption.
Despite these concerns, implementing the EEXI and CII regulations is a positive step towards net zero emissions. Compliance with these regulations will require significant investments in technology and infrastructure, but they offer a promising pathway to decarbonize shipping.
The success of these regulations will depend on the industry's ability to work collaboratively with policymakers, investors, and other stakeholders to accelerate the transition to a decarbonized future. As the countdown to 2050 begins, the maritime industry must remain vigilant and committed to operating on its net zero emissions target.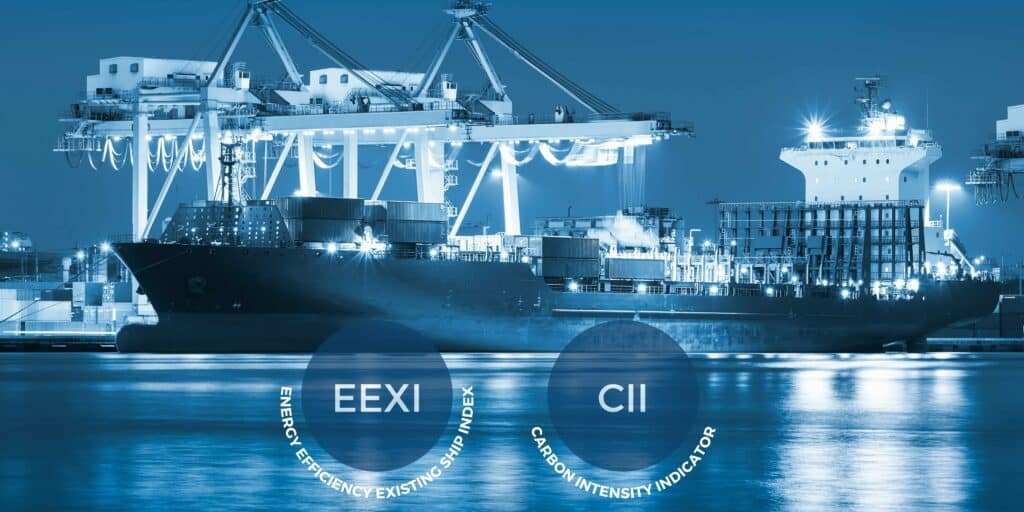 Challenges for Achieving a Net-Zero Pathway to 2050
The biggest challenges we face toward a net-zero pathway to 2050 include rapidly reducing greenhouse gas emissions, particularly in the energy and transportation sectors. This requires significant investments in renewable energy, energy efficiency, and electric vehicles while phasing out fossil fuels.
From an economic perspective, net-zero emissions would require spending approximately US$275 trillion on physical assets by the year 2050, equating to an average annual expenditure of US$9.2 trillion. This would represent a yearly increase of US$3.5 trillion compared to current spending levels.
Another challenge is the need for global cooperation and political will to ensure that all countries take meaningful action toward getting to net zero emissions.
Additionally, addressing the social and economic impacts of the transition, such as job displacement and energy poverty, will be crucial to ensure a just transition.
Finally, overcoming technological barriers and developing new solutions, such as CCS, will be essential to achieve a net-zero future.
To steer shipping to a net-zero pathway by 2050 presents several challenges. One major challenge is the high costs of transitioning to green fuels and technologies, which may be unaffordable for many ship owners.
Another challenge is the limited availability of green fuels, such as hydrogen and ammonia, which requires significant investment in infrastructure. Vessel's reliance on fossil fuels means that there is a need for a significant shift in mindset and culture toward sustainability.
The Benefits of Achieving a Net-Zero Planet by 2050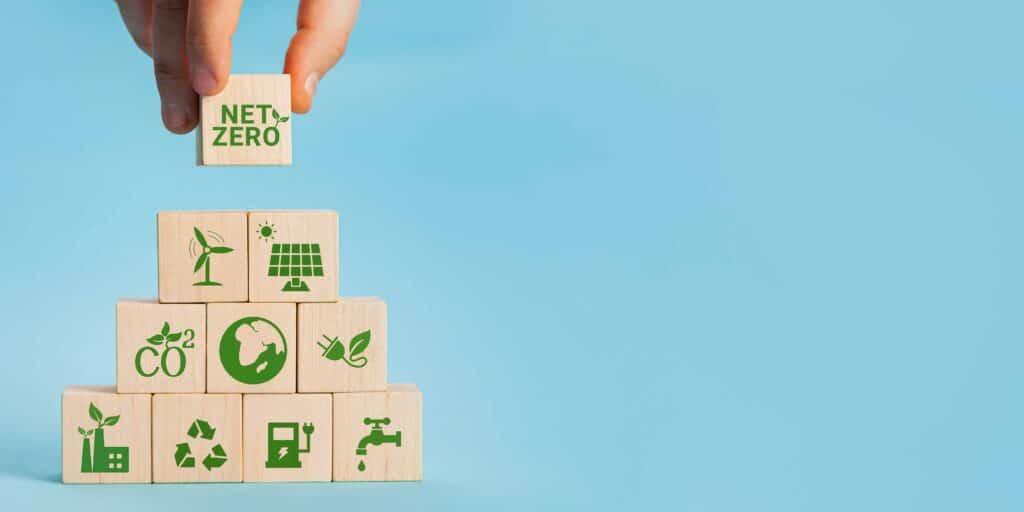 A net-zero planet by 2050 would bring numerous environmental and societal benefits. Here are some of the most significant benefits:
Mitigating Climate Change

: The most apparent benefit of a net zero planet is that it would significantly reduce the number of greenhouse gases emitted into the atmosphere…

Cleaner Air

: Reducing greenhouse gas emissions would also lead to cleaner air, which could positively impact public health, particularly for those who suffer from respiratory illnesses.

Greater Energy Security

: Moving towards sustainable energy sources, such as wind and solar power, would help to reduce dependence on fossil fuels and increase energy security.

Job Creation

: A net-zero planet would require a significant amount of investment in renewable energy infrastructure, which would create new job opportunities in industries such as construction, engineering, and energy.

Cost Savings

: While the initial investment in renewable energy infrastructure may be significant, over the long term, it is likely to result in cost savings as sustainable energy costs continue to decline.

Improved Resilience

: The impacts of our actions are likely to increase in severity over time, and achieving a net zero planet would help to improve resilience to these impacts by reducing the risk of extreme weather events and other environmental-related hazards.
Overall, a net zero planet by 2050 would bring about numerous benefits for both the environment and society, and it is essential to avoid the worst impacts of climate change.
A planet where shipping is decarbonized will result from the development and adoption of green technologies and fuels that will improve the efficiency of shipping operations, reducing costs and increasing competitiveness. Additionally, by demonstrating a commitment to sustainability, shipping companies could enhance their reputation with customers, investors, and other stakeholders, improving their long-term viability.
In conclusion, it is evident that environmental degradation is a critical issue that requires immediate attention from individuals, organizations, and governments worldwide. Taking action to reduce pollution, protect biodiversity, and promote sustainable practices is crucial for the long-term health of our planet. It is up to each of us to make a difference and preserve our world for future generations
Frequently Asked Questions about decarbonization to achieve net-zero emissions
Focus on data to make effective decisions
Choose one module to solve one specific pain point or combine several modules to monitor efficiently your environmental footprint.
Save time and money thanks to the key indicators.
Monitor air quality in real-time, be alerted when a threshold is reached & easily comply with regulation thanks to the automated reports.
Monitor water quality in real-time, predict and avoid water pollution & comply with regulations thanks to the automated reports.
Deliver a preliminary metocean analysis and the associated report in jut a few minutes.
Predict the best maritime route to optimize fleet rounds & fuel consumption.
You may also be interested by those others environment application :